Elders are essential to the Indigenous/Xwulmuxw Studies program and are equal teaching partners to other faculty in all of our classrooms.
Elders guide curriculum development and provide ongoing professional development to faculty by sharing appropriate
cultural teachings. Elders are facilitators of life-long learning by teaching and modeling responsibility and relationship
building within family, community, and the greater world. They play an important role in fostering a culturally-affirming
school environment by linking students, faculty and the university to Indigenous cultures, traditions, and territories.

Our beloved Elders are very involved in all aspects of the program, and you will often see the students referring to the Elders
as "Auntie" or "Uncle" as a sign of both affection and respect.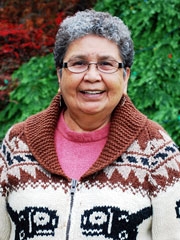 Auntie Delores
Auntie D. is a member of the Stz'uminus (Chemainus) First Nation and was one of the first
from her community to attend university in the 1970s. Her mother always encouraged
Auntie Delores and her sister to do everything they could to record and revitalize their
language, so they collaborated with others to create a Hul'qumi'num dictionary and a writing
system. Language remains a driving force behind much of what she does. Auntie Delores also
regularly shares her vast knowledge of Indigenous plants with students and faculty.