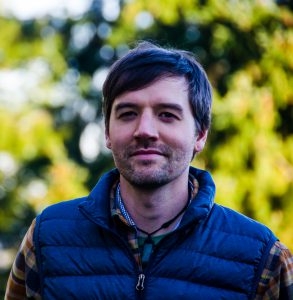 Ashley Blacquiere,
MA
Contract Faculty
AREAS OF FOCUS
Experimental gameplay design and interactive narrative
Tabletop and physical – digital hybrid games
Mathematical game design
TEACHING FOCUS
Game studies and game development
Popular culture and media studies
EDUCATION
B.Sc., University of Prince Edward Island (Mathematics)
Masters of Digital Media, Centre for Digital Media, Simon Fraser University
As a game designer working the video game industry, Ashley has designed games for major AAA game developers and publishers (Activision, Bungie and Techland), for smaller social game studios (Gnosis Games, KANO/APPS), and for indie collectives (Big Hadron Games). Ashley's research practice centres on the design of games for educational purposes, focusing specifically on modelling complex systems and social institutions. As a research associate and founding member of the University of Victoria's Digital Storytelling and Social Simulation Lab Ashley has developed games that draw attention to the complexities and challenges faced by subpopulations and marginalized individuals in society. Ashley's additional interests include experimental game mechanics and design, digital-physical hybrid gameplay, and games that explore social connections.
WEBSITE