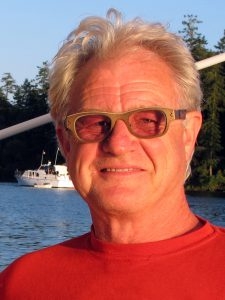 PhD, MA
Honourary Associate
Marshall Soules (BA Middlebury; MA/PhD Rutgers) was an instructor at VIU (formerly Malaspina) from 1987 to 2009. Previously, he taught at various universities and colleges; owned and operated Raincoast Construction (Vancouver); and promoted music and dance in the Lower Mainland.
Beginning in the mid-1990s, Marshall and colleagues in the English Department began offering Media Studies courses with a core focus on media ecology. In 2004, with a number of Media Studies courses in place, the department merged with the Digital Media Technology group and designed the curriculum for a Media program balancing theory with practice. This BA degree proposal was approved in 2008.
In 2009, Marshall retired from VIU to continue his own writing and photography projects. Since then, he has published Media, Persuasion and Propaganda (Edinburgh UP, 2015) and written a screenplay called Noble Lies. He is currently working on Cuba's Revolutionary Landscape, a case study in visual ethnography, and working with his partner as a mediator and conflict resolution coach. He continues as an Honorary Research Associate at VIU and gives occasional lectures on media topics.