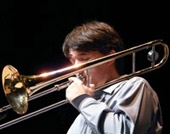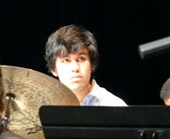 Update (Nov. 2022) to Message from the Chair (below)
The music faculty are pleased to announce that our program redesign is largely complete. We are confidant that our new course offerings, curriculum, and learning outcomes will contribute to the success of future students.
As of this writing however, our work is under review and the implementation of our new program is pending. This ongoing review will result in a continued suspension of student intake through the 2023-24 school year.
We will continue to support our students and are offering many new course to engage the community at large. If you are interested in taking music classes at VIU, please consult the VIU timetable or enquire with the Music Department Chair Brent.Jarvis@viu.ca.
Message from the Chair
To bring a music program that serves the needs of modern musicians, VIU's Music Program is undergoing a redesign. To ensure the redesign is successful, the difficult decision has been made to suspend new student entry to first-year for the Fall 2022 intake. We understand that this will disappoint and inconvenience some of our prospective students in the short term, but this is a necessary measure to ensure that the music program at VIU can maintain excellence among music programs.

Our top priority is to support the students currently in our program and ensure the redesign does not impinge on their studies.

We know how much of an impact this has on our students and communities. And it is our hope that you'll encourage us as the music program redesign takes shape.
About Us
Welcome to Vancouver Island University's Music Department - an exciting, vibrant, intense, and fun place to work and study on Vancouver Island.
Our students and instructors have one thing in mind; to make great music and musicians and to have fun doing it. VIU's Music Department has turned out some of the most successful music makers on the West Coast. Just take a look at some the accomplished artists who have been here and you will agree that this is the place!
Speaking of place, Nanaimo, where we are located on the east coast of Vancouver Island, has an incredibly vibrant music scene for a small (population 90,000) city. There are music venues here that range from small, intimate bistros, to music-centric bars, all the way to the excellent 800-seat Port Theatre. Nanaimo is a beautiful, waterfront city that inspires us on to greater musical accomplishments.
Study with any of our instructor-musician faculty members, and you will leave VIU with musical grounding that will stay with you on whatever musical path you choose to follow into the future.
Some of Our Students, In Action