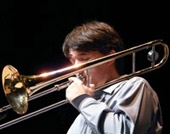 No matter what style of music you want to pursue, at VIU you get a musical grounding that prepares you to thrive in your career. We have trained some of the most successful music makers on the West Coast.
We are currently accepting applications for the Jazz diploma program.
Why a Jazz diploma?
Jazz covers an enormous range of styles. All music that's come out of North America since 1910 has its roots in jazz. Our modern idea of what it means to be a band comes from the early jazz bands.
In this program, you gain skills that make collaboration with other musicians easier. You pick up the traits that make you a musician others want to work with. And you have a good time doing it.
What to expect
From the moment you walk into your first music class, you're a musician. Many of the classes are ensembles where most of the work you do is to play your chosen instrument and jam with your classmates. It's a full immersion in the life of a working musician.
What you learn
When you complete our program you'll be able to:
perform music at a professional level in a wide array of styles
compose and arrange music in a wide array of styles
promote and market yourself with confidence using music technology and digital tools
contribute to a community of musicians with effective teaching and mentorship
follow and participate in current music scholarship
Try a class or two
Anyone can sign up for many of our courses. You can develop basic musicianship skills, study an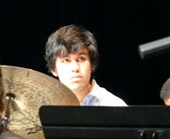 instrument, learn to make recordings or explore the enjoyment of music by taking a music appreciation class.
To see which classes are being offered, please visit the VIU Course Timetable.
Nanaimo music scene
Nanaimo, a beautiful waterfront city, has a vibrant music scene. The music venues here range from intimate bistros to music-centric bars, all the way to the 800-seat Port Theatre. VIU students get invited to play many of these venues during their time in the program.
Questions?
For more details, including admission requirements, deadlines and fees, see the Jazz Studies diploma calendar page. 
For more information about Music courses or our Diploma program, please email Department Chair Brent Jarvis at Brent.Jarvis@viu.ca
Some of our students in action
Check out past and future performances by students, faculty and alumni on our Facebook page.
Mission Statement
The VIU Music program nurtures our students' musical calling and passion by equipping them to pursue their musical voice in any music area. We provide the specific skills needed for effective professionals who can succeed in a variety of environments, including performing and conducting in live and recorded venues, teaching in schools, and succeeding in entrepreneurship in the music business.