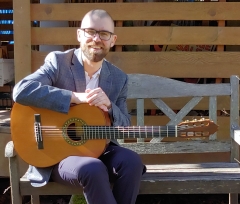 Jesse is a guitarist, composer, and teacher from Nanaimo, BC.
Active as a freelance guitarist since 2013, recent highlights include performances at the Nanaimo Jazz Festival, Nanaimo Guitar Showcase, and Island Notes Chamber Music Festival.
As a composer and arranger, Jesse has written for a wide variety of ensembles at the secondary and post-secondary level. His composition "Summer's Over" was featured on the University of Toronto Jazz Orchestra's 2020 album, Embargo, which received 4 stars from All About Jazz.
Jesse holds a Master of Music from the University of Toronto, as well as B. Mus. and B. Ed. degrees from Vancouver Island University and an ARCT in Guitar Performance from the Royal Conservatory of Music.