Portal Magazine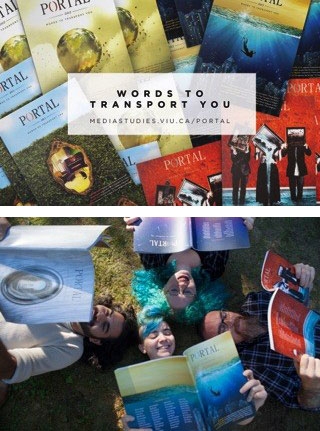 Portal is an annual full-colour 96-page literary magazine edited and published by Vancouver Island University Creative Writing students. It is a gateway to accomplished short fiction, poetry, creative non-fiction, scripts, interviews, art and photography by emerging writers. What makes Portal so portentous? It is a portrait of literary talent in the making, a portable guide to the VIU from here.
Portal celebrated its 30th anniversary in 2021 and continues a tradition of excellence with interviews with award-winning writers (Don McKay, Jan Zwicky, Dennis Lee, George Elliott Clarke, Erin Moure), designers, publishers, and features on the evolving publishing industry and educational landscape. We invite you to visit Portal Magazine to see all backlist issues, podcasts, launch footage, a behind-the-scenes blog, video promos/trailers, and book reviews.
Portal is distributed nationwide by Magazines Canada, is a member of the BC Magazine Publishers Association, and sells for $10. Close to 2000 people read Portal annually and we can be ordered online from the VIU bookstore and found on newsstands across the nation. To book an ad, contact Publisher Joy Gugeler at Joy.Ggugeler@viu.ca. Follow us on Twitter at Portal Magazine and friend us on Facebook.
Incline Magazine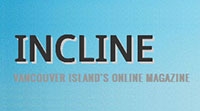 Incline is the online magazine of the Vancouver Island University Department of Creative Writing and Journalism, featuring articles and videos written, edited, and produced by students in the CREW 401 Long-Form Non-Fiction workshop and the CREW 402 Online Publishing workshop.