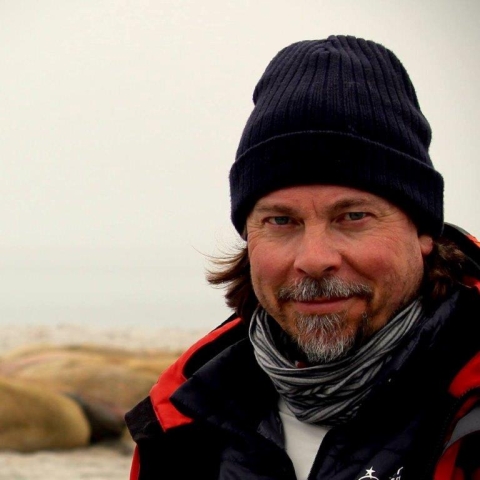 (Poetry / Fiction / Creative Non-Fiction)
Jay Ruzesky's most recent book is In Antarctica: An Amundsen Pilgrimage (Nightwood 2013) about his voyage to the white continent in the footsteps of his ancestor--Roald Amundsen. Ruzesky's novel about a medieval monumental astronomical clock is called The Wolsenburg Clock (Thistledown 2009) and was shortlisted for a ReLit Award and for the City of Victoria Butler Book Prize. Ruzesky has not all that long ago guest-edited a special issue of The Malahat Review on environmental literature called "The Green Imagination" and has been on the editorial board of The Malahat Review since 1989. He was born in Edmonton, Alberta in 1965 but doesn't remember that city at all because he only lived there for two weeks and at the time was busy distinguishing between his early, complicated senses. Memories begin sometime later as he was raised in Saskatoon, Winnipeg, Thunder Bay, Calgary, and Kelowna. He studied at Okanagan College, the University of Victoria, and the University of Windsor as well as at the Banff Centre for the Arts. His poems and stories have appeared in Canadian and American journals such as Caliban, Prism international, Canadian Literature, Event, Saturday Night, Descant, Border Crossings, and Poetry Northwest and his books include Blue Himalayan Poppies (Nightwood, 2001), Writing on the Wall (Outlaw Editions, 1996), Painting The Yellow House Blue (House of Anansi, 1994), and Am I Glad To See You (Thistledown, 1992). Essays, interviews and art criticism have appeared in Brick, Poetry Canada Review, and selected gallery publications. His films include Carmanah, a video poem which was selected for the Vancouver Island Short Film Festival; and a documentary called Life Worth Telling about the writer, John Lent.
Teaching Philosophy
The Latin origin of the word "educate" means "to lead" or "to draw forth."  Ideally, that's what the process of education should be: a teacher is a facilitator who leads you to understand what you know and to want to examine ideas that you haven't yet.
encountered. Since everyone learns differently, you need to be willing to ask questions and to take an active part in making sure you get the kind of nurturing, criticism, and guidance that you need.  The best students are not interesting, they're "interested" and they understand that learning anything new is really a way of finding out about themselves.  
Website: Jay Ruzesky