Caribbean-Canadian Poet M. NourbeSe Philip to Read at VIU Oct. 26/27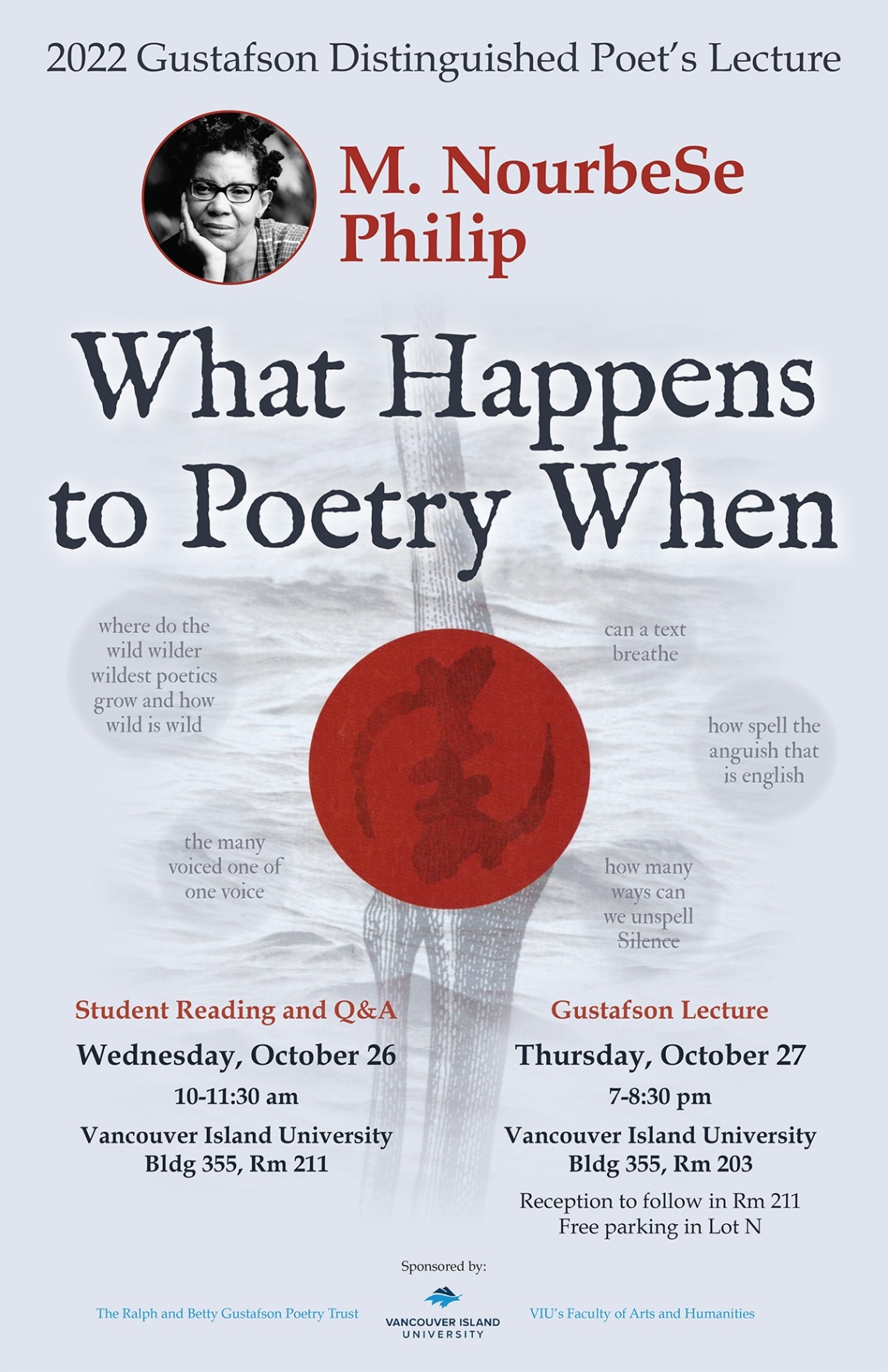 Renowned poet, essayist, novelist, playwright, and independent scholar M. NourbeSe Philip will deliver the 2022 Gustafson Distinguished Poet's Lecture entitled What Happens to Poetry When on VIU's Nanaimo campus Thursday Oct. 27th at 7:00 pm in the auditorium of building 355. Both the event and parking in Lot N are free.
Philip will respond to the hypothetical of her title through a series of probes that explore "the many voiced one of one voice" and "the anguish that is english." She will consider "how many ways can we unspell Silence"  and ask "where do the wild wilder wildest poetics grow  and how wild is wild"?  Philip, a longtime anti-racism activist, invites us to consider how poetry can "threaten the cohesion of the law  colonial law"  and to seek the pulse of poetry even as we query "can a text breathe"?
Philip was born in Tobago and now lives in Toronto. Her published works include the seminal She Tries Her Tongue; Her Silence Softly Breaks; the speculative prose poem Looking for Livingston: An Odyssey of Silence; the young adult novel, Harriet's Daughter; the play, Coups and Calypsos; and four collections of essays including Frontiers: Essays and Writings on Racism and Culture and her 2017 collection, BlanK. Her book-length poem, Zong!, is a conceptually innovative, genre-breaking epic that explodes the legal archive as it relates to slavery. Zong! was named the 2021 winner of World Literature Today's 21 Books for the 21st Century.
Philip has received Guggenheim, McDowell, and Rockefeller fellowships as well as the 2020 PEN/Nabokov Award for Achievement in International Literature, the Pushcart Prize, and the 2021 Canada Council for the Arts' lifetime achievement award, among many others.
VIU English professor and author of Sonnet's Shakespeare Sonnet L'Abbe says, "NourbeSe Philip's work has had an international influence on the way we register, hear, write, and amplify the voices of Black people in literature and performance. This is an opportunity to hear one of the world's most impactful thinkers on what it means to express oneself in English in the wake of colonial time."
"NourbeSe Philip's oeuvre expands what's possible in poetry: words spread, fracture, and hover together in tenuous relation, inspiring – and challenging – us to rethink our responsibilities to one another in both the present and the past. In experiencing Philip's work, both in performance and on the page, we realize the future, too, can – and must – be reimagined," says Neil Surkan, author of Unbecoming and professor of English at VIU.
A catered reception, cash bar, and book signing will follow the lecture in the lounge across from the auditorium (Rm 211). Philip will also read from her work and speak about her craft at a student-only event Oct. 26th at 10 am in the same room. Copies of Philip's books will be available at the VIU Bookstore and will be sold at the reception along with the Gustafson Distinguished Poets Series of limited edition chapbooks edited by Joy Gugeler, designed by Robert Bringhurst, and printed by Gaspereau Press. Sam Bollinger and Tianna Vertigan will interview Philip for the April issue of Portal, VIU's national literary magazine.
The Gustafson Distinguished Poetry Chair was established in 1998 from the estate of the late, preeminent Canadian poet Ralph Gustafson and his wife, Betty. The Chair has been held by celebrated poets Al Moritz, Lillian Allen, Fred Wah, Erin Moure, Lorna Crozier, Don McKay, Dionne Brand, and Daphne Marlatt among others, and is supported by VIU's Faculty of Arts & Humanities and Dean Marni Stanley.
Joy Gugeler is Chair of the Gustafson Committee, which includes Sonnet L'Abbe, Neil Surkan, and Mike Roberson. For more information contact joy.gugeler@viu.ca or visit ah.viu.ca/gustafson-trust