M. NourbeSe Philip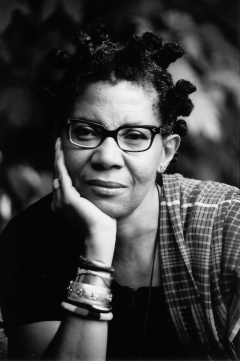 Born in Tobago, M. NourbeSe Philip is a renowned poet, essayist, novelist, playwright and independent scholar. She practised law for seven years before becoming a poet and writer.  Among her published works are: the seminal She Tries Her Tongue; Her Silence Softly Breaks; the speculative prose poem Looking for Livingston: An Odyssey of Silence; the young adult novel, Harriet's Daughter; the play, Coups and Calypsos, and four collections of essays including her most recent collection, BlanK. Her book-length poem, Zong!, is a conceptually innovative, genre-breaking epic, which explodes the legal archive as it relates to slavery.
Zong! was named the 2021 winner of World Literature Today's (WLT) 21 Books for the 21st Century. She has received Guggenheim, McDowell, and Rockefeller (Bellagio) fellowships. Her awards include: the 2020 PEN/Nabokov Award for Achievement in International Literature; the Pushcart Prize (USA); the Lawrence Foundation Prize (USA); the Casa de las Americas Prize (Cuba); the 2021 Canada Council for the Arts' lifetime achievement award, the Molson Prize, for her "invaluable contributions to literature" after receiving the Victor Martyn Lynch-Staunton Award for an outstanding mid-career artist; the YWCA Woman of Distinction (Arts); a the Elizabeth Fry Rebels for a Cause awards; the Chalmers Award (Ontario Arts Council); the Arts Foundation of Toronto Writing and Publishing Award; and she was a Dora Award finalist (Drama).
Abstract for 2022 Gustafson Lecture:  What Happens to Poetry When – October 27
who she be   where she be  the many voiced one of one voice  how spell the anguish that is english  resolve daffodil vs poui  or the crunch and collide in tectonic plates  what the braided genealogies of law and poetry  how many ways can we unspell Silence  where do the wild wilder wildest poetics grow  and how wild is wild  where do we find the opacity of other within  when does the fragment stop being  a fragment become its own  how can  how does poetry threaten the cohesion of the law  colonial law  where do the poetics of relations and the poetics of the fragment meet  what happens when you drown the case report  can you deep-six the archive  does it explode  how do we spell Xaqua  can you untell ever & does that differ from not telling  how can and if so how does a memory survive  under water  can a text breathe  become pneuma   can a memory swim  where do we find the flotsam  the jetsam that is poetry  what happens to poetry when
 Stay tuned for updates re a student event on the afternoon of October 26th on campus, a community event that night, and the gala after the lecture on October 27th.