Our faculty are a diverse and talented group. We hope you'll enjoy the process of getting to know them.
Patrick Foster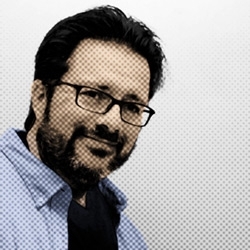 When you have a creativity block, what helps you get over it and keep working on your project?
A writer I'm a fan of was asked this very question, and his answer was, "You never hear a carpenter complain they've got carpenter's block." This is my job; its creative, but I'm solving a problem with my skills, not expressing my own point of view. If you're stuck, remember your process and follow it.
Where did you do your schooling?
I dropped out of the Savannah College of Art & Design, in Savannah, Georgia, a long time ago. I did part of a graphic design degree at Daytona Beach College in Florida a while after that, and finished my BFA at New Mexico Highlands University some time later still. I went to grad school for my MDes at The Nova Scotia College of Art & Design University, in Halifax.
How did you get involved with design?
Accidentally. I dropped out of art school after high school because I was drawing with charcoal and throwing pots on a wheel, and I hated it. A few years later, I went with a friend to their interview for a photography program at a design school, saw design work on the walls and thought, Oh, I'm supposed to be doing this.
Brad Harris
Graphic Design Program Chair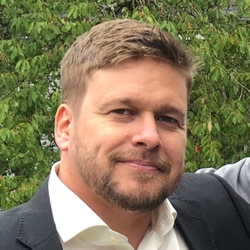 If you had the chance to go back in time what career would you choose?
Restaurant owner / bartender. I can be obsessive in the search of new food and drink. My sanctuary is in the kitchen trying to create some sort of culinary experience.
Lakes or oceans? Why?
I love the oceans, but my heart is with the lakes. I grew up in Northwestern Ontario where we could enjoy the extremes of lake culture: in the summer, we would overheat in a sauna then dive from a dock into cold, clean (drinkable) water; in the winter, we would spend hours snowmobiling across vast, open expanses of frozen water, then eat chili and drink hot chocolate by a warm, smoky campfire.
What is your favourite cereal?
Hands down, the best cereal on the planet would be Marshmallow Rice Krispies — if only they still made them… You have your classic dehydrated cereal marshmallows and Rice Krispies. It's happiness in a bowl.
Kevin Mazutinec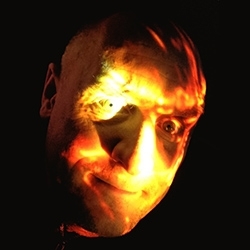 Whats your favourite designer/artist and who inspired you the most?
Impossible for me to nail down 1 - how about 3? David Lynch, David Fincher, RUSH (yes, the band). Look them up.
If you had the chance to go back in time what career would you choose?
Ha! Something like Es Devlin. Look her up.
Lakes or oceans? Why?
Oceans. Because they feel way more alive. The waves reaching the shore laugh at us - mocking our trivial existence. Sometimes in soft whispers, sometimes in a crashing roar. Lakes feel like they are trapped, as if they know what they should be doing, but cannot.
What is your favourite place on earth?
Bora Bora. Look it up. I have not been there. I may never go. But I think about it often, and hold it as my idea of paradise. A brilliant blue dream.
Ellen McCluskey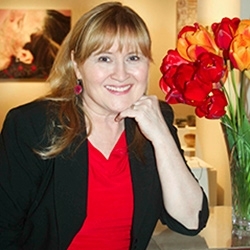 What, other than design, have you spent over 10,000 hours doing?
Photography, reading, and family… when not base-jumping or hand-building lutes.
How would you explain your job to a 5-year old?
Helping people tell stories about their world with pictures and words.
What's your favourite conspiracy?
Human DNA the result of aliens mating with Neanderthals.
Faye Ostergard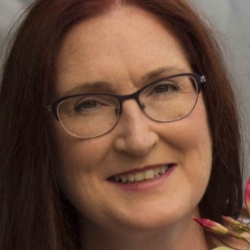 When you have a creativity block, what helps you get over it and keep working on your project?
I laugh creativity blocks in the face — so not true (ha, ha)! I trust in process and practice in my craft daily. Those are the tools in my arsenal that I rely on consistently.
What fascinates you about design?
Is this the same as curiosity? I hope so! Having the opportunity to explore subject matter and idea generation that feeds my curious nature is fascinating to me. It's exciting to me that every client presents me with a new industry to learn about — I enjoy the challenge.
What is your art style?
As a designer, my style is quite conservative (insert yawn here). Anyone that sees my whimsical and child-like artistic endeavours looks at me with a tilted head and furrowed eyebrows (what the heck!?!). I have come to embrace the diversity in my art and design styles and look for opportunities for one to inform the other.
Nancy Pagé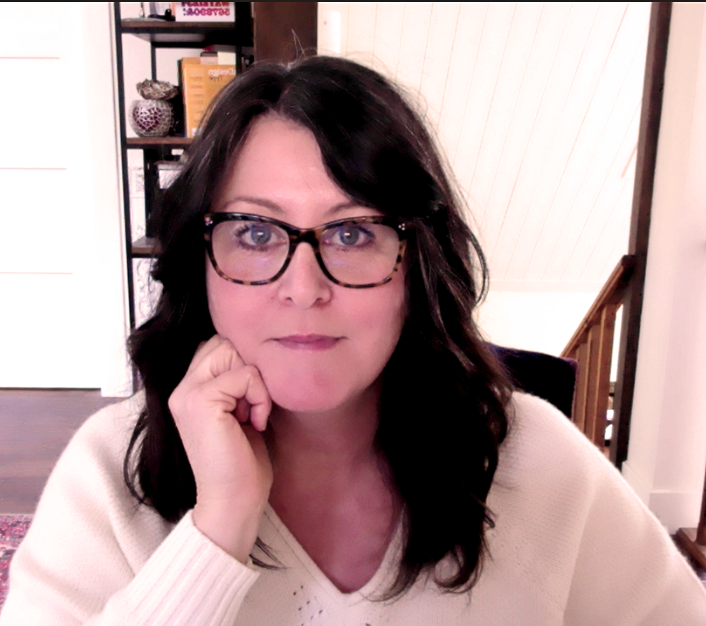 What made you become a teacher?
The faculty invited me to teach one course a while ago. Despite being terrified, I had so much fun. The students taught me so much. I hope I did the same for them. This experience motivated me to pursue my graduate degree, which eventually led to more teaching. Best decision ever!
What fascinates you about design?
What doesn't! I've spent my entire career trying to define it. It's a noun. It's a verb. It's bold. It's invisible. It's continuously evolving and keeps me engaged with each new variation. 
When you have a creativity block, what helps you get over it and keep working on your project?
I usually drop everything and go for a walk or get outside—anything to stop thinking about the problem. It's amazing how our brains work; the minute you relax, the ideas will come.