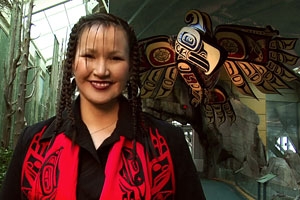 Vancouver Island artist Connie Watts is a mixed media artist of Nuu-Chah-Nulth, Kwakwaka'wakwa and Gitxsan ancestry.
One of the hallmarks of her art practice, a fusion of art and design, is her   translation of Northwest Coastal style through innovative use of media and technique, incorporating traditional forms and symbolism while embracing a contemporary aesthetic.
Connie's body of work includes free standing sculptural, wall, and hanging constructions, and functional art, composed of metal, wood, glass, and fabric; animated films; Nuu-Chah-Nulth language books; and clothing design.
Her imaginatively conceived and superbly executed art images and objects are populated with animal protectors and other indigenous iconography, forms, and symbols, incorporating aspects of space, time, mythology, and elements of play.
The work is deeply informed by personal experience, familial relationship, issues of identity and language, the tension between modernity and cultural connection, and the search for authenticity.
Connie's formal training is as eclectic as her artwork.  She obtained a Bachelor of Interior Design from the University of Manitoba, and completed two years of coursework in industrial design and graduated with a Bachelor of Fine Arts degree in Intermedia from Emily Carr Institute of Art and Design.
Her work has been shown in solo and group exhibitions in North America, most notably the Changing Hands: Art Without Reservation 2 exhibition at the Museum of Arts & Design in New York, and her solo exhibit Re-Generation at the Urban Shaman Gallery, Winnipeg, Manitoba.  commissioned work includes Hetux, a large Thunderbird sculpture composed of Baltic birch and powder coated aluminum, intricately canvassed with animals, moons and sun representing the essence of her grandmother, installed at the Vancouver International Airport.
Connie currently divides her time between her art practice and business, acting as project manager of the Venues' Aboriginal Art Program for the Vancouver/Whistler 2010 Winter Games, and jurying exhibitions for the British Columbia Arts Council.
For more information visit conniewatts.com