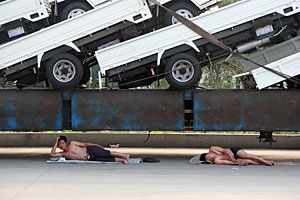 Gu Xiong, who is a professor in the Department of Art History, Visual Art, and Theory at the University of British Columbia, completed his formal art education, following the difficult period of the Chinese Cultural Revolution, at the Sichuan Fine Arts Institute in China. After graduation, Gu Xiong worked as a teacher at the Sichuan Fine Arts Institute and became involved in burgeoning Chinese avant-garde art movements. Gu Xiong works in a wide variety of media – painting, drawing, printmaking, sculpture, photography, video, digital imagery, text, performance art, and installation – and currently teaches painting and graduate studio courses at the University of British Columbia. His work has been shown in over 35 solo exhibitions, and he has participated in more than 70 national and international group exhibitions including the ground-breaking exhibition "China Avant-Garde" at the China National Museum of Fine Arts (Beijing 1989) and recently, the Shanghai Biennale in 2004. Since 2002, Gu Xiong has also been a visiting professor at the Sichuan Fine Arts Institute in Chongqing, China and numerous arts institutions throughout China.
In 1986, Gu Xiong traveled from China to Canada where he participated in a year-long exchange program at the Banff Centre for the Arts as an artist-in-residence. He returned to China and after the events of Tiananmen Square, he received support from friends in immigrating to Canada. After a residency at the Banff Centre in 1989-90, Gu Xiong moved to Vancouver and was joined by his wife and daughter. Creating a new life in Canada was, at times, a struggle and to support himself and his family, Gu Xiong worked at a variety of jobs that were vastly different from his work as a university teacher and artist in China. In 1991, Gu Xiong had his first exhibition in Vancouver at the Diane Farris Gallery. This was followed by exhibitions in Victoria and at the Vancouver Art Gallery as well as participation in a number of international arts biennale.
In 1992, Gu began work as a printmaking technician at the University of British Columbia and also as an art instructor in art departments at Emily Carr Institute of Art and Design, Simon Fraser University, and Kwantlen College. In 2000, he became an associate professor in the Art History and Visual Art Department at the University of British Columbia.
Gu Xiong's art practice focuses on the creation of hybrid identities and issues relating to hybridity, particularly in how individuals integrate and amalgamate differing cultural origins and new identities within diasporic experience. While Gu Xiong's art work has primarily focused on personal, lived experiences, addressing the circumstances encountered in creating a new life for him and his family in Canada, at the same time, his work also critically and evocatively addresses social, political, and historical issues and experiences in a rapidly globalizing world.