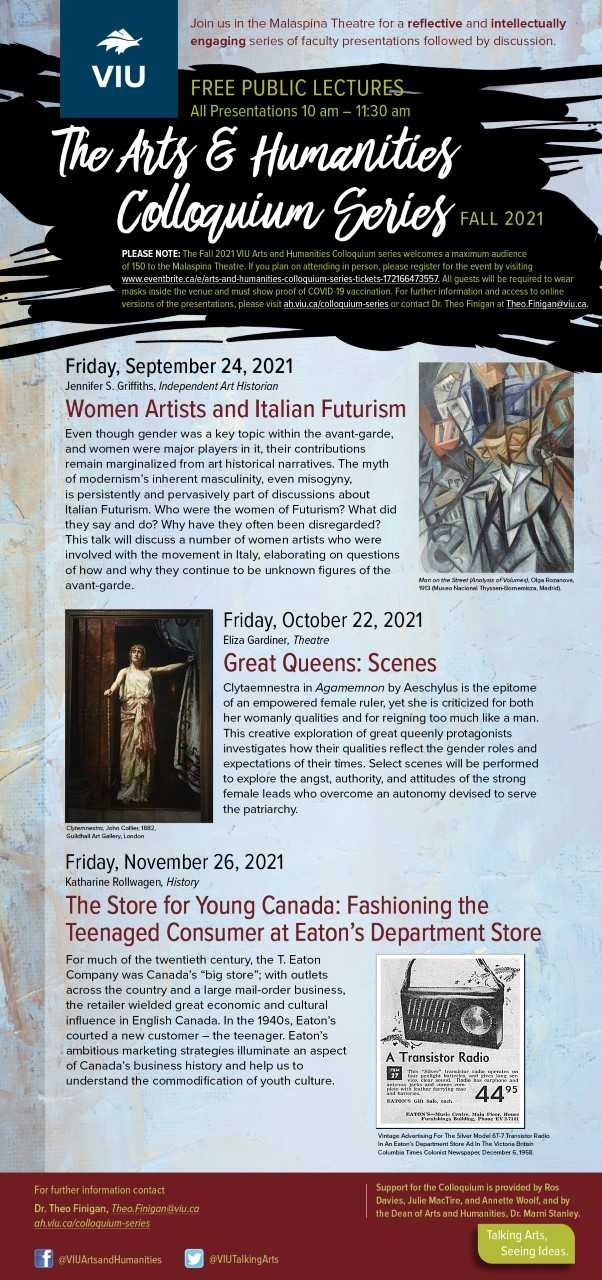 Join us on line for a REFLECTIVE and INTELLECTUALLY ENGAGING series of faculty presentations.
Since its beginning in 2009, the presentations of the Arts and Humanities Colloquium have engendered conversations about ideas among members of the Arts and Humanities Faculty and their communities both at VIU and in the mid-Island region. Our presenters have shown how important the arts and humanities are to understanding today's world. We are delighted to share our scholarly and creative work with our audiences and invite you to join us.
For 2021-22 the VIU Arts and Humanities Colloquium Series will take place in the Malaspina Theatre. If you would like to attend in person, we would appreciate it if you would register here:
https://www.eventbrite.ca/e/arts-and-humanities-colloquium-series-ticket...
Registration is encouraged but not required. All guests will be required to wear masks inside the venue, and will have to show proof of Covid-19 vaccination if our attendance is over 50 patrons.
If you would like to attend virtually, you can join via Zoom (Password: 298471).
All presentations will take place from 10 to 11:30 a.m. 
FALL 2021
Women Artists and Italian Futurism           
September 24, 10 to 11:30 a.m.
Jennifer S. Griffiths, Independent Art Historian
Griselda Pollock has argued that even though gender was a key topic within the avant-garde, and women were major players in it, their contributions remain marginalized from art historical narratives. The myth of modernism's inherent masculinity, even misogyny, is persistently and pervasively part of discussions about Italian Futurism and it is certainly true that its Founding and Manifesto (1909) proclaimed a "scorn for women." Yet women at the time defied and challenged this insult.  This talk will discuss a number of international and Italian women artists who were involved with the movement in Italy, including Rosa Rosà, Frances Simpson Stevens, Mina Loy, Rougena Zatkova, Alexandra Exter, Olga Rozanova, Benedetta Cappa Marinetti, and Marisa Mori. It will elaborate on questions of how and why they continue to be unknown figures of the avant-garde focusing on the interrelated issues of absence and inferiority, pointing to the disappearance and destruction of these women's art and archives as a major impediment to recuperative research and criticism. 
Jennifer Griffiths has a PhD in the History of Art from Bryn Mawr College. She previously taught for the American University, Iowa State University, and the University of Georgia in Italy. She was a staff writer for the American Academy in Rome between 2013-15. Her research has been published in Design Culture, Woman's Art Journal, Woman's Studies Quarterly, and elsewhere. Her first monograph, Marisa Mori and the Futurists: A Woman Artist in an Age of Fascism, will be published by Bloomsbury next year.
Click here to join Meeting ID: 664 1295 8287
Great Queens: Scenes
October 22, 10 to 11:30 a.m.
Eliza Gardiner, Theatre Department
Clytaemnestra in Agamemnon by Aeschylus is the epitome of an empowered female ruler, yet she is criticised for both her womanly qualities and for reigning too much like a man. This creative exploration of great queenly protagonists investigates how their qualities reflect the gender roles and expectations of their times. Select scenes will be performed to explore the angst, authority, and attitudes of the strong female leads who overcome an autonomy devised to serve the patriarchy.
A commissioned playwright and director with 20 years' experience in the industry, Eliza Gardiner teaches theatre history, public speaking and applied theatre. Eliza's scholarly focus on fifth-century Attic tragedy has evolved into research on arts-based teaching practices, participatory theatre methodologies, and socio-political Theatre of the Oppressed techniques. Eliza has presented previously at the Arts and Humanities Colloquium on "The Power of Indigenous Theatre."
Click here to join Meeting ID: 664 1295 8287
The Store for Young Canada: Fashioning the Teenaged Consumer at Eaton's Department Stores 
November 26, 10 to 11:30 a.m.
Katharine Rollwagen, History Department
For much of the twentieth century, the T. Eaton Company was Canada's "big store"; with outlets across the country and a large mail-order business, the retailer wielded great economic and cultural influence in English Canada. In the 1940s, Eaton's courted a new customer – the teenager. Eaton's ambitious marketing strategies illuminate an aspect of Canada's business history and help us to understand the commodification of youth culture.
Katharine Rollwagen's research examines the social and cultural influence of corporate entities, from her current work on the economic and social impacts of consumer culture on youth to earlier research on notions of gender, class and community in Canadian company towns. She holds a PhD in History from the University of Ottawa and an MA in History from the University of Victoria. Previously, she was an L.R. Wilson Assistant Professor at the Wilson Institute for Canadian History at McMaster University, and a SSHRC post-doctoral scholar. You can follow her on Twitter: @KTRollwagen.
Click here to join Meeting ID: 664 1295 8287
~~~
Please email Theo.Finigan@viu.ca if you would like to be added to our mailing list.
View  past presentations on YouTube