Join us for a reflective and intellectually engaging series of faculty presentations.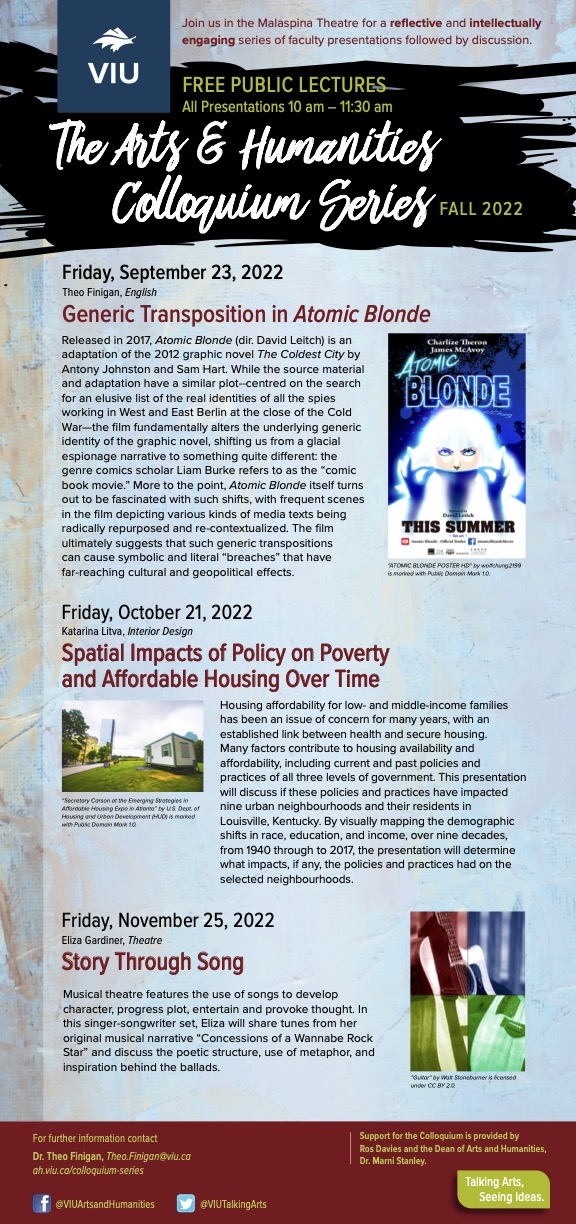 Since its beginning in 2009, the Arts and Humanities Colloquium Series has engendered conversations about ideas among members of the Arts and Humanities Faculty and their communities both at VIU and in the mid-Island region. Our presenters have shown how important the arts and humanities are to understanding today's world. We are delighted to share exciting scholarly and creative work with our audiences and invite you to join us.
In 2022-23, the VIU Arts and Humanities Colloquium Series will be held in the Malaspina Theatre. All presentations will take place from 10 to 11:30 am.
Fall 2022
Generic Transposition in Atomic Blonde
September 23, 10 - 11:30 am
Theo Finigan, English
Released in 2017, Atomic Blonde (dir. David Leitch) is an adaptation of the 2012 graphic novel The Coldest City by Antony Johnston and Sam Hart. While the source material and adaptation have similar plots -  both centre on the search for an elusive list of the real identities of all the spies working in West and East Berlin at the close of the Cold War - the film fundamentally alters the underlying generic identity of the graphic novel, shifting us from a glacial espionage narrative to something quite different: what the genre comics scholar Liam Burke refers to as the "comic book movie." More to the point, Atomic Blonde itself turns out to be fascinated with such shifts, with frequent scenes in the film depicting various kinds of media texts being radically repurposed and re-contextualized. The film ultimately suggests that such generic transpositions can cause symbolic and literal "breaches" that have far-reaching cultural and geopolitical effects.
Theo Finigan teaches composition, business communication, and literary studies in the English Department at VIU. He has a PhD in English from the University of Alberta, and his scholarly interests include post-1945 American fiction, the historical novel, postmodernism, the New Journalism, and the literature and culture of the Cold War. His current research project focuses on the representation of the Cold War in 21st-century American literature and culture.
Spatial Impacts of Policy on Poverty and Affordable Housing Over Time
October 21, 10 - 11:30 am
Katarina Litva, Interior Design
Housing affordability for low- and middle-income families has been an issue of concern for many years, with an established link between health and secure housing. Many factors contribute to housing availability and affordability, including current and past policies and practices of all three levels of government. This presentation will discuss if these policies and practices have impacted nine urban neighbourhoods and their residents in Louisville, Kentucky. By visually mapping the demographic shifts in race, education, and income, over nine decades, from 1940 through to 2017, the presentation will determine what impacts, if any, the policies and practices had on the selected neighbourhoods. 
Katarina Litva teaches in Interior Design at VIU.
Story Through Song
November 25, 10 - 11:30 am
Eliza Gardiner, Theatre
Musical theatre features the use of songs to develop character, progress plot, entertain and provoke thought. In this singer-songwriter set, Eliza will share tunes from her original musical narrative "Concessions of a Wannabe Rock Star" and discuss the poetic structure, use of metaphor, and inspiration behind the ballads.
Eliza Gardiner teaches theatre history, public speaking and applied theatre at VIU. Eliza's scholarly focus on fifth century Attic tragedy has evolved into research of arts-based teaching practices, participatory theatre methodologies, and socio-political Theatre of the Oppressed techniques. A commissioned playwright and director with 20 years' experience, Eliza owned and operated Red Room Studio children's theatre company. She has presented at the VIU Arts and Humanities Colloquium previously on "The Power of Indigenous Theatre" and, most recently, with "Great Queens: Scenes."
---
Please email Theo.Finigan@viu.ca if you would like to be added to our mailing list.