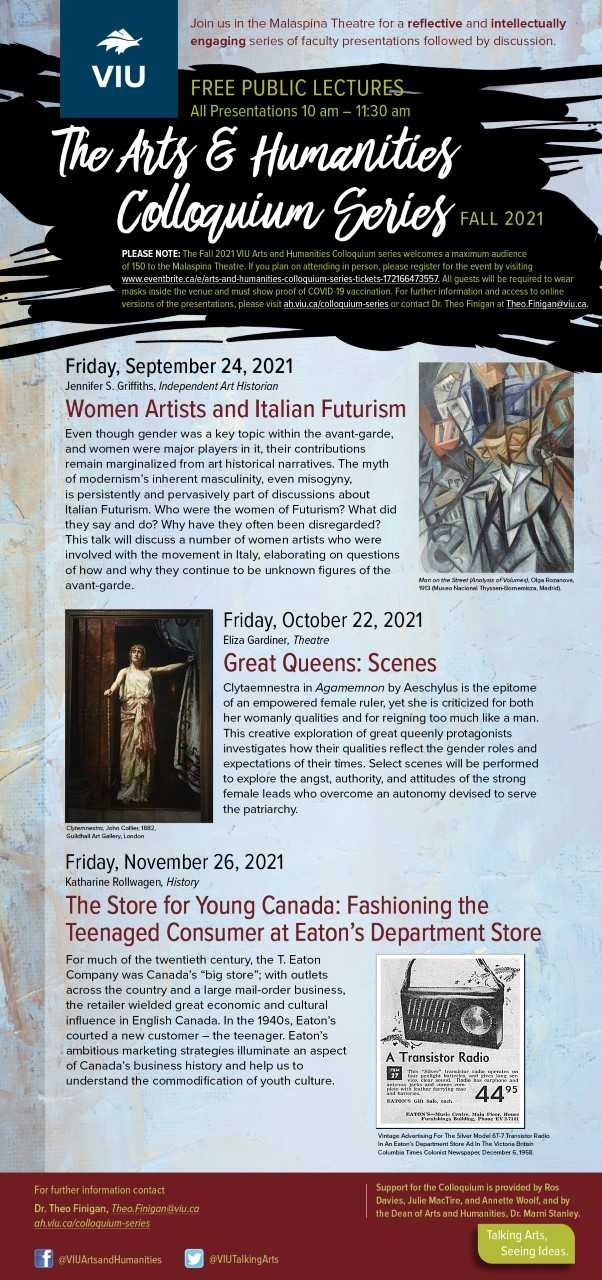 Join us on line for a Reflective and Intellectually Engaging series of faculty presentations.
Since its beginning in 2009, the presentations of the Arts and Humanities Colloquium have engendered conversations about ideas among members of the Arts and Humanities Faculty and their communities both at VIU and in the mid-Island region. Our presenters have shown how important the arts and humanities are to understanding today's world. We are delighted to share our scholarly and creative work with our audiences and invite you to join us.
For 2021-22 the VIU Arts and Humanities Colloquium Series will take place in the Malaspina Theatre. If you would like to attend in person, we would appreciate it if you would register.
Registration is encouraged but not required. All guests will be required to wear masks inside the venue and will have to show proof of Covid-19 vaccination.
If you would like to attend virtually, you can join via Zoom (Password: 279966).
All presentations will take place from 10 to 11:30 am.
Spring 2022
A Brief "Visit" Into the Theatre of the Grotesque
January 14, 10 - 11:30 am
Leon Potter, Theatre
Join us as we embark on an exploration of Swiss playwright Friedrich Dürrenmatt's extraordinary 1956 play The Visit. Director and Designer Leon Potter will take you deep into the creative world behind the scenes of Malaspina Theatre's upcoming Spring production of this grotesque, provocative satire. 
Leon has been working in theatre and film since 1989. Originally training at the University of Victoria as a Set and Lighting Designer, his career spans a myriad of positions including director, actor, designer and technician. Leon began working as a Director since 1994 and quickly became the Artistic Director of the Looking Glass Theatre in Vancouver, and Blue Peanut Productions. He completed his training at the UK's Royal Academy of Dramatic Art (RADA) and Kings College, London with an MA (w/distinction) in Directing.   On top of his University and Professional work, Leon has been doing workshops and adjudications around the province.
Join via Zoom, Meeting ID: 624 3163 3026
Listening to The World / Storying A Place
February 11, 10 - 11:30 am
Sonnet L'Abbé (English, Creative Writing & Journalism), and Craig Taylor (Creative Writing & Journalism)
Join us for compelling live performances by two of VIU's Creative Writing & Journalism faculty. Poet and singer-songwriter Sonnet L'Abbé will talk about their impulse to decolonial balladeering and perform some of their new songs, while writer, playwright, and journalist (and Malaspina University-Collage alum) Craig Taylor will read selections from his work.
Sonnet L'Abbé is a professor in English and Creative Writing & Journalism (of which they are also Chair) at VIU, and a poetry editor at Brick Books. Their third published collection of poetry, Sonnet's Shakespeare (2019) is a political engagement with the literary canon that takes aim at Shakespeare to express disaffection for Britain's colonial legacy in Canada.They are currently exploring songwriting and performance as a form of community storytelling and activist poetics on Snuneymuxw territory. 
Also on the VIU Creative Writing & Journalism faculty, Craig Taylor is the author of the best-selling Londoners, as well as Return to Akenfield and One Million Tiny Plays About Britain, which began as a column in the Guardian Weekend magazine. His most recent book, New Yorkers: A City and Its People in Our Time, was longlisted for the Brooklyn Public Library Prize. Craig's journalism has appeared in the New York Times, the Guardian, the Globe & Mail, Vancouver Sun, Granta, and McSweeney's, while his plays have been professionally performed throughout the UK and internationally. 
Join via Zoom, Meeting ID: 624 3163 3026
Beyond Voices: Audio Media and the Sound of Scholarship
March 11, 10 - 11:30 am
Robin Davies, Media Studies
How do oral - and more importantly aural - techniques open up creative and pedagogical pathways for producers and audiences?  This presentation will be thoroughly auralized with examples from the classroom, interdisciplinary audio collaboration, and campus/community radio.  Though ours is a visual culture, we hear in far higher resolution than we see.  Sound can immerse and transplant the listener.  Sound is a shortcut to memory.  We can close our eyes, but sound is inescapable.
Robin studied Double Bass and Music Technology at McGill's Schulich School of Music. His interests include the utilization of the human voice in auditory storytelling, sound design for visual art, the construction and use of software-based musical instruments for live electronic music performance, and helping others embrace technology for use in their creative endeavours. Robin's sound design and remix work can be heard on releases from Phoenicia Publishing, Six Records, Maple Music, Ad Noiseam, and Sunchaser Pictures.
Join via Zoom, Meeting ID: 624 3163 3026
---
Please email Theo.Finigan@viu.ca if you would like to be added to our mailing list.