Join us on line for a REFLECTIVE and INTELLECTUALLY ENGAGING series of faculty presentations.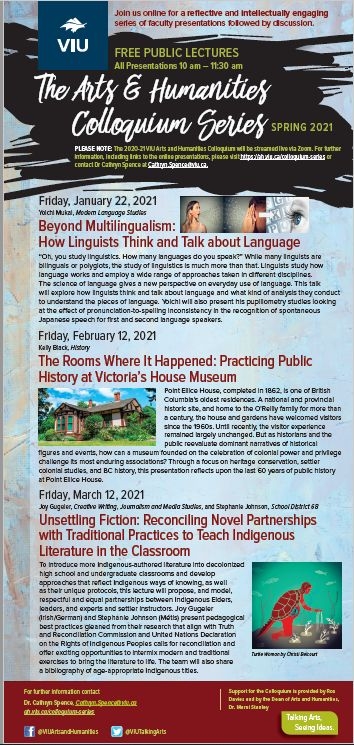 Since its beginning in 2009, the presentations of the Arts and Humanities Colloquium have engendered conversations about ideas among members of the Arts and Humanities Faculty and their communities both at VIU and in the mid-Island region. Our presenters have shown how important the arts and humanities are to understanding today's world. We are delighted to share our scholarly and creative work with our audiences and invite you to join us.
For 2020-21 the VIU Arts and Humanities Colloquium Series will be streamed on line via Zoom. 
All presentations take place from 10 to 11:30 a.m. 
SPRING 2021
Beyond Multilingualism: How Linguists Think and Talk about Language           
January 22, 10 to 11:30 a.m.
Yoichi Mukai, Modern Languages Studies
"Oh, you study linguistics. How many languages do you speak?"  While many linguists are bilinguals or polyglots, the study of linguistics is much more than that. Linguists study how language works and employ a wide range of approaches taken in many different disciplines from arts and humanities to social and natural sciences. The science of language can give you a new perspective on everyday uses of language as in talking to a friend, writing a tweet, listening to a podcast, or using Siri. This presentation will introduce how linguists think and talk about language and what kind of analysis they conduct to understand the pieces of language. After talking about fundamental components of linguistic analysis (i.e., sound, grammar, and meaning), it will briefly discuss two key topics of Yoichi's research. First, that speech is highly variable. This variability often results from instances of phonetic reduction, as in the realization of words with approximated articulation, resulting in deletion and/or incomplete articulation of sound segments. Second, that literacy skills change the way we comprehend speech. Inconsistencies between the ways in which words are pronounced and spelled have been shown to affect the recognition of spoken words. This talk will help you to understand the underlying mechanisms of speech communication in a first language and the process of learning a second language.
Yoichi Mukai joined the Department of Modern Languages Studies at VIU in 2019. He completed his PhD in Linguistics at the University of Alberta in 2020 and his MA in Applied Linguistics and Discourse Studies at Carleton University in 2014. His primary research interest is to employ a range of experimental methods and understand how humans process spoken language using multiple sources of language information in order to cope with variability. He is particularly interested in understanding (1) how production of speech varies across different styles of speech and how listeners interact with such variability, and (2) how orthographic knowledge influences the recognition of spoken language.
Click here to join Meeting ID: 694 9479 969
Password: 55555
The Rooms Where It Happened: Practicing Public History at Victoria's House Museum
February 12, 10 to 11:30 a.m.
Kelly Black, History
Point Ellice House, completed in 1862, is one of British Columbia's oldest residences. A national and provincial historic site, and home to the O'Reilly family for more than a century, the house and gardens have welcomed visitors since the 1960s. Until recently, the visitor experience remained largely unchanged - afternoon tea on the lawn being the primary offering. As historians and the public reevaluate dominant narratives of historical figures and events, how can a museum founded on the celebration of colonial power and privilege challenge its most enduring associations? What can we learn by prioritizing stories and projects that are unsettling or discordant? Through a focus on heritage conservation, settler colonial studies, and BC history, this presentation reflects upon the last 60 years of public history at Point Ellice House to explain more recent efforts that go beyond the tropes of tea and roses.
Kelly Black is the executive director at Point Ellice House Museum and Gardens. He is a VIU alumni (BA, 2009) and an instructor  in the Department of History; he is also the president of the Friends of the BC Archive.
Click here to join Meeting ID: 649 7994 7463
Password: 55555
Unsettling Fiction: Reconciling Novel Partnerships with Traditional Practices to Teach Indigenous Literature in the Classroom
March 12, 10 to 11:30 a.m.
Joy Gugeler, Creative Writing and Journalism, and Stephanie Johnson, School District 68 
In an effort to introduce more Indigenous literature into our high school and undergraduate university classrooms and develop teaching approaches that respect traditional Indigenous ways of knowing and being as well as their unique protocols, we are proposing and modelling respectful and equal partnerships between Indigenous Elders, leaders, and experts and settler instructors. This effort is to expose teen and young adult students (ages 14-22 in particular) to a wider range of works by Indigenous storytellers as well as share contemporary and innovative strategies to engage them in the on and offline worlds in which they live. The intent is also to put the UNDRIP and TRC calls to action into practice, rather than be paralyzed by guilt, lack of access, or fear of missteps, while holding space for and embracing these essential and truthful experiences of our shared nation's hi/stories.
Gugeler and Johnson suggest ways in which principles celebrating resurgence and reconciliation can be fundamentally interwoven into Indigenous-Settler education to inform our pedagogical practices and embrace a rich, innovative, and holistic way forward. Authentic and deliberate attention to a truly hybrid and integrated approach requires decolonizing classroom structure and taking up a participatory approach that is fair, balanced, and non-hierarchical. Ideal partnerships integrate both knowledge systems and employ "two-eyed seeing": "To see from one eye with the strengths of Indigenous ways of knowing, and to see from the other eye with the strengths of Western ways of knowing, and to use both of these eyes together" (Bartlett et al, 2012, p. 335). Together, Johnson and Gugeler will present best practices according to their research, model these practices in the presentation, demonstrate a sample of modern approaches, and share a bibliography of Indigenous-authored titles.
Joy Gugeler has a BA in Journalism and a Masters in Canadian Studies from Carleton University and is completing a PhD at SFU in Communications and Publishing. For 25 years she has worked as a freelance and acquiring editor for Quarry Press, Beach Holme, Raincoast, and ECW presses, specializing in literary fiction. She has been the editor-in-chief for three online magazines, on the editorial boards of Room, ARC, and Quarry literary magazines, hosted programming on CBC and Bravo!, "Write On" on CKCU, and "Books & Bytes" on CHLY. She founded the Canadian Children's Book Camp that runs annually in Vancouver for 11- to 17-year-olds since 2000. She has taught editing at SFU since 1996 and at Ryerson since 2000;  and she has taught Publishing, Journalism, and Media Studies at VIU since 2010, where she publishes Portal literary magazine and The Ralph Gustafson Distinguished Poets Lecture Series.
Stephanie Johnson lives on the unceded territory of the Snuneymuxw mustimuxw in Nanaimo and is a board member of the Métis Nation of Canada. She is completing an MA in Interdisciplinary Studies at Royal Roads with a focus on reconciliation and the decolonizing of public institutions. In partnership with Indigenous Knowledge Keepers and the Nanaimo Ladysmith Public School board, Stephanie developed a policy for Truth & Reconciliation called the Syeyutsus Framework. Together with her Syeyutsus Family, she is working to implement this vision across the District. Stephanie is also a co-founder of Toro Marketing inc., a management consulting firm, with 25+ years of organizational leadership and community engagement experience.
Click here to join Meeting ID: 630 3440 7187
Password: 55555
~~~
Please email Cathryn.Spence@VIU.ca if you would like to be added to our mailing list.
View  past presentations on YouTube