Join us for a REFLECTIVE and INTELLECTUALLY ENGAGING series of faculty presentation followed by discussions and accompanied by refreshments!
Since its beginning in 2009, the presentations of the Arts and Humanities Colloquium have engendered conversations about ideas among members of the Arts and Humanities Faculty and their communities both at VIU and in the mid-Island region. Our presenters have shown how important the arts and humanities are to understanding today's world. We are delighted to share our scholarly and creative work with our audiences and invite you to join us.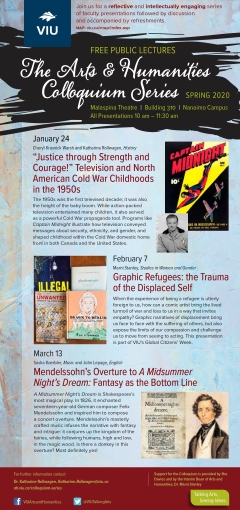 Spring 2020
"Justice through Strength and Courage!" Television and North American Cold War Childhoods in the 1950s
January 24
Cheryl Krasnick Warsh and Katharine Rollwagen, History
The 1950s was the first televised decade; it was also the height of the baby boom. While action-packed television entertained many children,
it also served as a powerful Cold War propaganda tool. Programs like Captain Midnight illustrate how television conveyed messages about security, ethnicity, and gender, and shaped childhood within the Cold War domestic home front in both Canada and the United States. 
Graphic Refugees: the Trauma of the Displaced Self
February 7
Marni Stanley, Studies in Women and Gender
When the experience of being a refugee is utterly foreign to us, how can a comic artist bring the lived turmoil of war and loss to us in a way that invites empathy? Graphic narratives of displacement bring us face to face with the suffering of others, but also expose the limits of our compassion and challenge us to move from seeing to acting. This presentation is part of VIU's Global Citizens' Week.  
Mendelssohn's Overture to A Midsummer Night's Dream:
Fantasy as the Bottom Line
March 13
Sasha Koerbler, Music and John Lepage, English
A Midsummer Night's Dream is Shakespeare's most magical play. In 1826, it enchanted seventeen-year-old German composer Felix Mendelssohn and inspired him to compose a concert overture. Mendelssohn's masterly crafted music infuses the narrative with fantasy and intrigue: it conjures up the kingdom of the fairies, while following humans, high and low, in the magic wood. Is there a donkey in this overture? Most definitely yes!
Please email Cathryn.Spence@VIU.ca if you would like to be added to our mailing list.