Join us for a reflective and intellectually engaging series of faculty presentations. 
Since its beginning in 2009, the Arts and Humanities Colloquium Series has engendered conversations about ideas among members of the Arts and Humanities Faculty and their communities both at VIU and in the mid-Island region. Our presenters have shown how important the arts and humanities are to understanding today's world. We are delighted to share exciting scholarly and creative work with our audiences and invite you to join us.
In 2022-23, the VIU Arts and Humanities Colloquium Series will be held in the Malaspina Theatre. All presentations will take place from 10 to 11:30 am.
Spring 2023
On Bach's Chaconne for Solo Violin
February 10, 10 - 11:30am
James Mark, Music
The famous Bach Chaconne for solo violin is a monumental piece of music. This presentation will give some background about the piece and the various nuances, interpretations, and performance practices that musicians consider when playing/performing the piece. It will also discuss some of the difficulties and intrinsic technical details that make this piece particularly difficult to pull off, as well as how to overcome some of those difficulties. The presentation will culminate with a performance of the piece. 
James Mark was born and raised on Vancouver Island and studied music at Vancouver Island University, York University and finally CalArts where he went on to become faculty. Currently, James is a professor of music at VIU where he has been teaching for over a decade. James continues to actively perform, arrange, and compose music. He has performed with the Vancouver Island Symphony since 1994 and is the Writer/Musical Director for the Yellowpoint Christmas Spectacular.
Holding Space for Queerness in the Classroom
March 10, 10 - 11:30 am
Marni Stanley, Dean of Arts and Humanities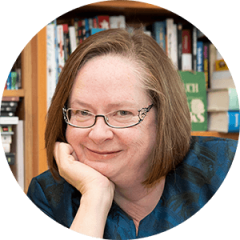 What does it mean to hold some space for queerness in the classroom? Join Marni for a very personal journey through her life in education from queer student to queer teacher. Lots of lessons learned; happily imperfectly. 
Marni Stanley has taught both English and Women's Studies at three universities and has been at Vancouver Island University since 1994.
---
Please email Theo.Finigan@viu.ca if you would like to be added to our mailing list.