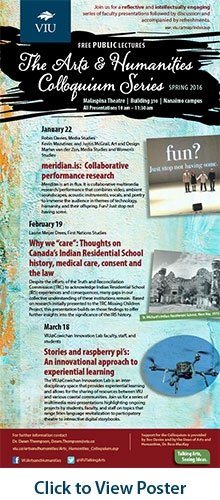 Spring 2016
Janurary 22, 2016
meridian.is: Collaborative Performance Research
Kevin Mazutinec and Justin McGrail, Art and Design Department
Marian van der Zon, Departments of Media Studies and Women's Studies
Meridian is art in flux. It is collaborative multimedia research/performance that combines video, ambient soundscapes, acoustic instruments, vocals, and poetry to immerse the audience in themes of technology, humanity, and their offspring. Fun? Just stop not having some. 
February 19, 2016
Why We "Care": Thoughts on Canada's Indian Residential School history, medical care, consent and the law
Despite the efforts of the Truth and Reconciliation Commission (TRC) to acknowledge Indian Residential School (IRS) experiences and consequences, many gaps in our collective understanding of these institutions remain. Based on research initially presented to the TRC Missing Children Project, this presentation builds on those findings to offer further insights into the significance of the IRS history.
March 18, 2016
Stories and Raspberry Pi's: An Innovational Approach to Experiential Learning
VIU@Cowichan Innovation Lab faculty, staff, and students
The VIU@Cowichan Innovation Lab is an interdisciplinary space that provides experiential learning and allows for the sharing of resources between VIU and various coastal communities. Join us for a series of multimedia mini-presentations highlighting ongoing projects by students, faculty, and staff on topics that range from language revitalization to participatory theatre to interactive digital storybooks. 
For further information contact:
Katharine Rollwagen at Katharine.Rollwagen@viu.ca