Although normally the prerequisite for upper-level courses is two 200-level English courses, for students interested in specific courses, prerequisites may be waived through consultation with the Professor and Chair.
Fall 2017
Spring 2018
NOTE: Any course descriptions or reading lists here are tentative. Check back for updates.
Course Descriptions: Fall 2017
ENGL 300: BACKGROUNDS TO ENGLISH LITERATURE: The BIBLE AS LITERATURE
Professor Anna Atkinson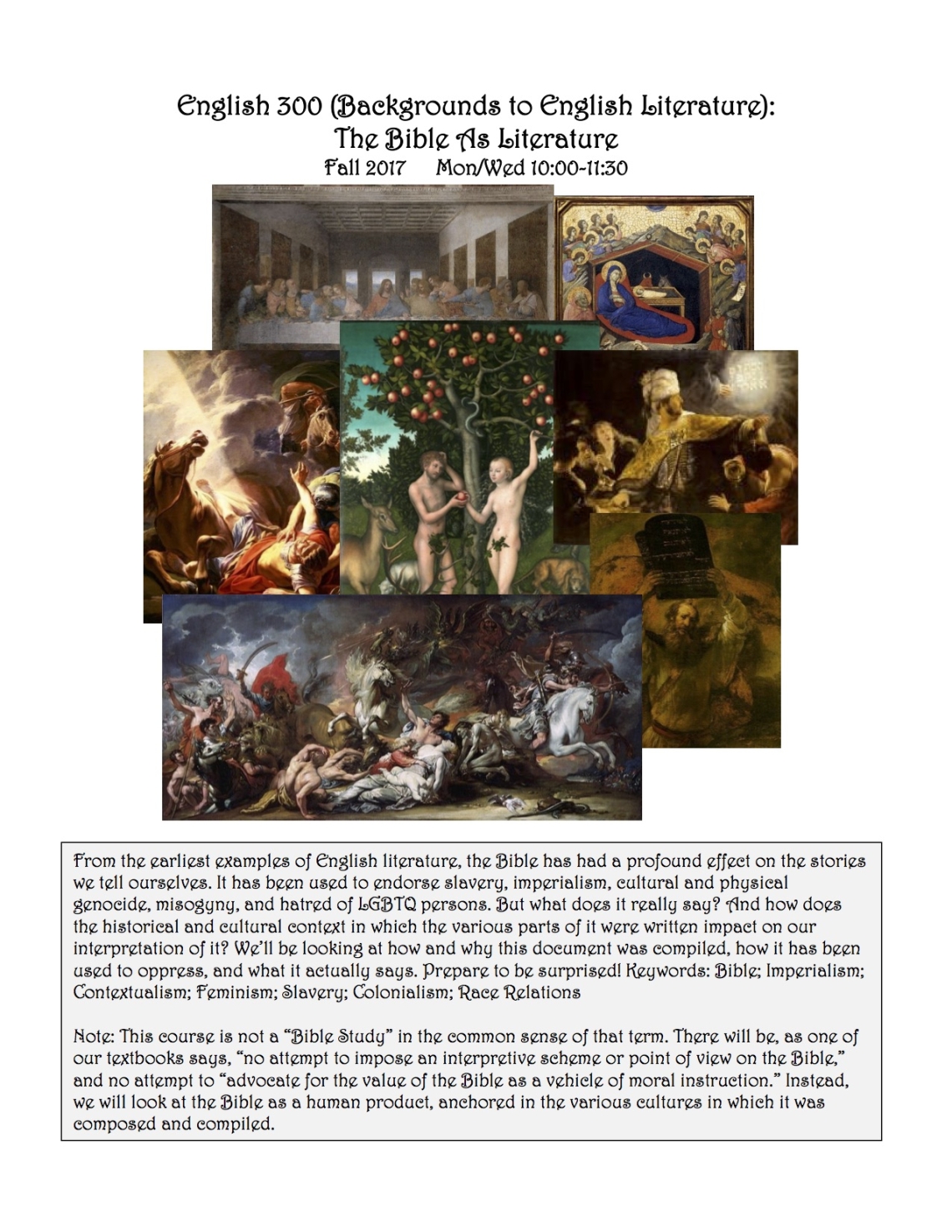 ---
ENGL 315: ADVANCED COMPOSITION
Professor Jay Ruzeksy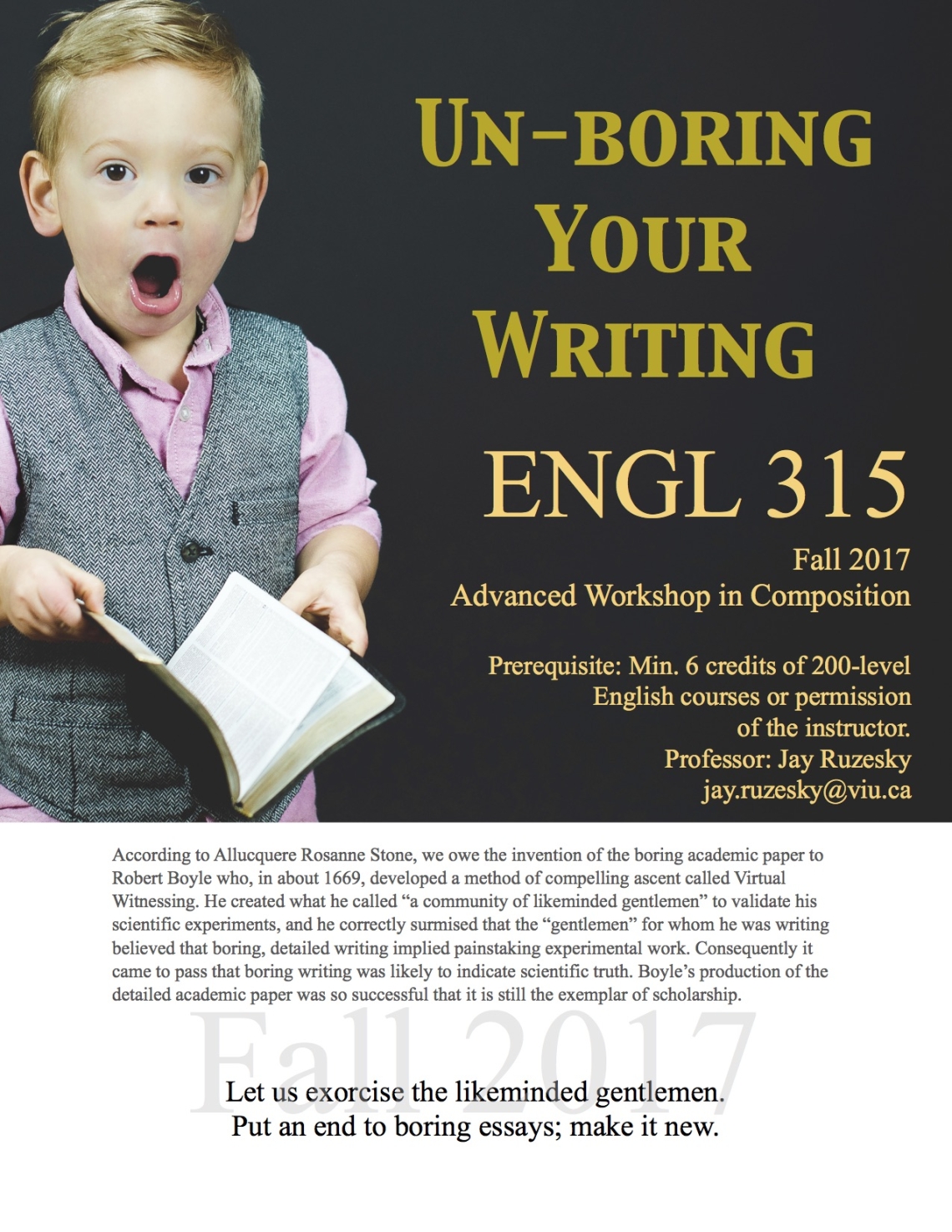 ---
ENGL 329: TOPICS IN CHILDREN'S AND YOUNG ADULT LITERATURE 

Professor Lynn Wytenbroek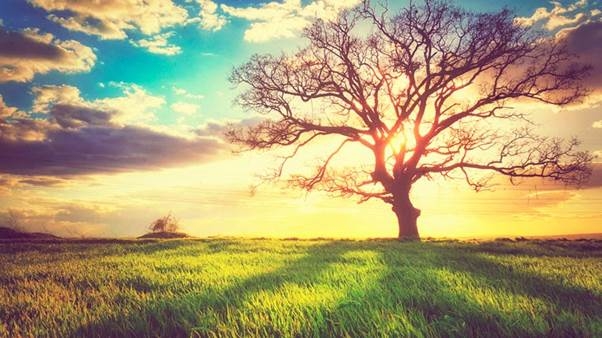 Now more than ever, young people are aware of the great issues of our time that will affect their lives and futures. In fact, children's and young adult fiction are often at the forefront of addressing these important issues. One such issue is the devastating effects humans are having on the environment on a number of fronts that will, in turn, have a direct effect on human lives, sometimes in the immediate future. Both the problems and actual or potential solutions to them will be the thematic focus in this course on children's and young adult literature. We will look at both picture books and YA novels that address various environmental issues and, often, solutions to the problems. This course will be helpful for those planning to work with children, in education or recreation, as these issues are already a topic of discussion and even action in schools and in reactional activities for youth. Most of the texts we will discuss were published during or since the late 20th century and will include such titles as Spalding's
Solomon's Tree;
Brisson's
The Summer My Father Was Ten,
McNaughton's
Secret under My Skin,
Bell's,
Speak to the Earth
and Hughes'
The Crystal Drop
---
ENGL 331: TOPICS IN WEST COAST LITERATURE: WRITING BRITISH COLUMBIA
Professor Toni Smith
---
ENGL 340: TOPICS IN MEDIEVAL LITERATURE: CHAUCER'S THE CANTERBURY TALES 
Professor Cynthea Masson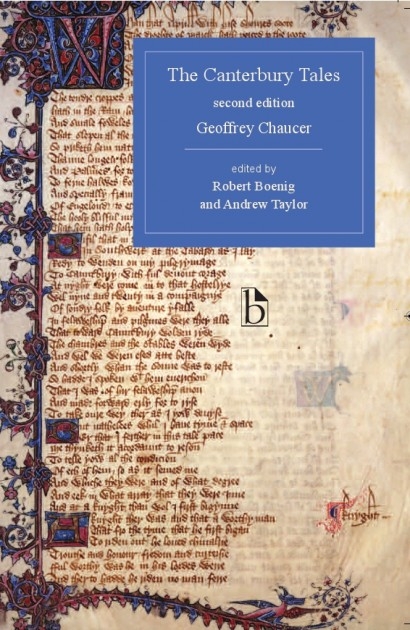 By the end of ENGL 340 you will have gained not only a new appreciation for medieval literature but a skill you can use to impress your friends and family—you will be able to read Chaucerian verse aloud. Try it now:
A knyght ther was, and that a worthy man,
That fro the tyme that he first bigan
To riden out, he loved chivalrie,
Trouthe and honour, fredom and curteisie.
(General Prologue 43-46)
Alongside our practice of Middle English, we will examine the plots, themes, genres, and characters of several Canterbury Tales. To contextualize our readings, we will discuss aspects of medieval England, including political and religious beliefs. Assignments will include translation tests, a research paper, a midterm exam, and a final exam. Depending on the number of students enrolled, creative presentations about Chaucer and his works (or, alternatively, dramatic recitations of Chaucerian verse) will be a component of participation.
MAIN TEXT:  Chaucer, Geoffrey. The Canterbury Tales. Edited by Robert Boenig and Andrew Taylor, 2nd ed., Broadview, 2012.
---
ENGL 344: TOPICS IN SHAKESPEARE
Professor Ian Whitehouse
This world is a comedy to those that think, a tragedy to those that feel. (Horace Walpole)
This course will examine comedy and its many expressions in four of Shakespeare's plays, As You Like It, Twelfth Night, A Midsummer Night's Dream, Much Ado About Nothing, and a modern adaption of one of them, She's the Man. In A History of Classical Greek Literature, J. P. Mahaffy, in comparing tragedy and comedy, describes the latter as an art for the "purification of certain affections of our nature, not by terror and pity, but by laughter and ridicule." Mahaffy aligns the two genres but distinguishes the means by which each achieves the same end. Northrop Frye takes a similar approach when he says that a tragedy is really an unfinished comedy. The relationship between comedy and tragedy will be our starting point. We will then consider its social function in relation to Shakespeare's work.  As in all explorations, there will be detours and misdirection. Hopefully, as with all comedies, our journey towards a greater understanding of the nature of comedy ends well, for, as Shakespeare once remarked, all's well that ends well. Or was that Francis Bacon? 
---
ENGL 390: TOPICS IN WORD AND IMAGE: GRAPHIC MEMOIR
Professor Paul Watkins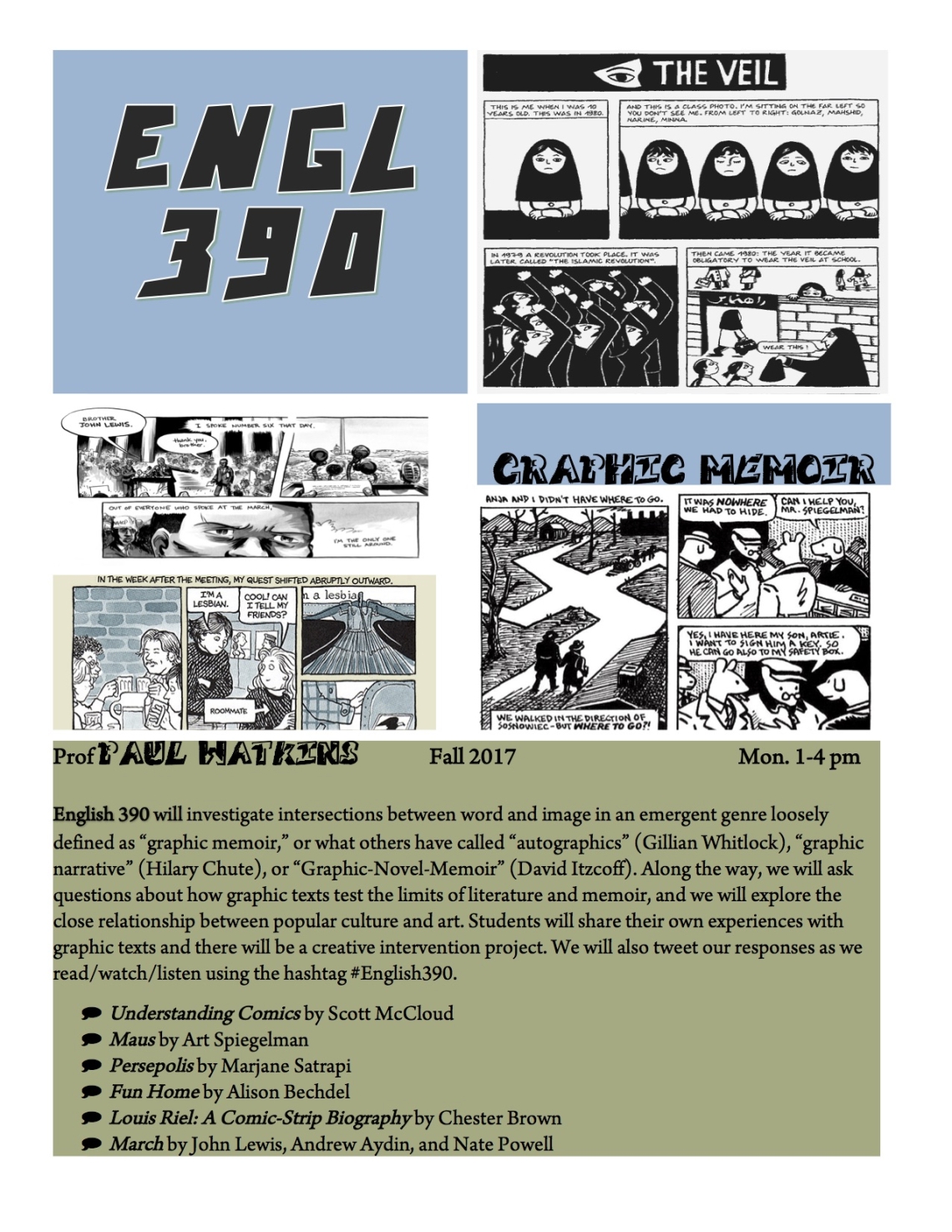 ---
ENGL 392: TOPICS IN DIGITAL HUMANITIES
Professor Richard Lane
What does it mean to read and explore literature in the digital age?  In Topics in the Digital Humanities, we will explore literature through the world of the internet, easy to use open source digital applications, and some fun free digital visualization tools.  Our aim will be to understand the growing field of digital humanities, getting a sense of some of the critical questions that new ways of approaching literature have opened up.  We will explore some of the debates in the digital humanities, and we will ask what digital tools are useful for each of us in our personal educational journeys.  The course works for total beginners as well as students who have played around with some digital applications.  It is also relevant for those who are interested in studying education as well as a wide range of arts and humanities subject areas.  
---
ENGL 480: 
RESEARCH METHODS: ENTERING THE SCHOLARLY CONVERSATION
Professor Dawn Thompson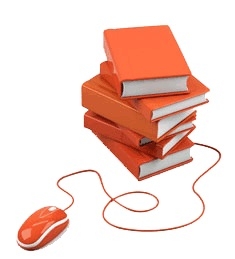 In this course we will explore how we might join the conversations that take place in literary scholarship. Part of the course will thus focus on how scholars of literature move between what might be considered subtly different modes of thought: literary, critical, and theoretical. What assumptions does each of us bring to literary texts? How do we decide which critical approaches are appropriate? Once I've decided that I'm, say, a feminist critic, must I always wear those glasses when I read? At what point does the distinction between "primary" and "secondary" texts become problematic?
Concurrent with our discussion of these methodological questions, we will consider the changing nature of research in literary studies.  In collaboration with VIU Research Librarian Kathleen Reed, our initial focus will be on the critical evaluation and selection of secondary material in an ever-expanding information universe. Then we will move on to a consideration of how digital technologies are in the process of transforming literary studies in every way, from the kinds of questions we ask, to how we engage in research, to how we share our work. As we consider these issues, we will focus on each stage of writing a scholarly research paper.
Required Texts
Mary Shelley. Frankenstein. (Broadview Online Critical Edition)
Daphne Marlatt. Ana Historic
---
Course Descriptions: Spring 2018
ENGL 312: HISTORY OF LITERARY THEORY 
Professor Dawn Thompson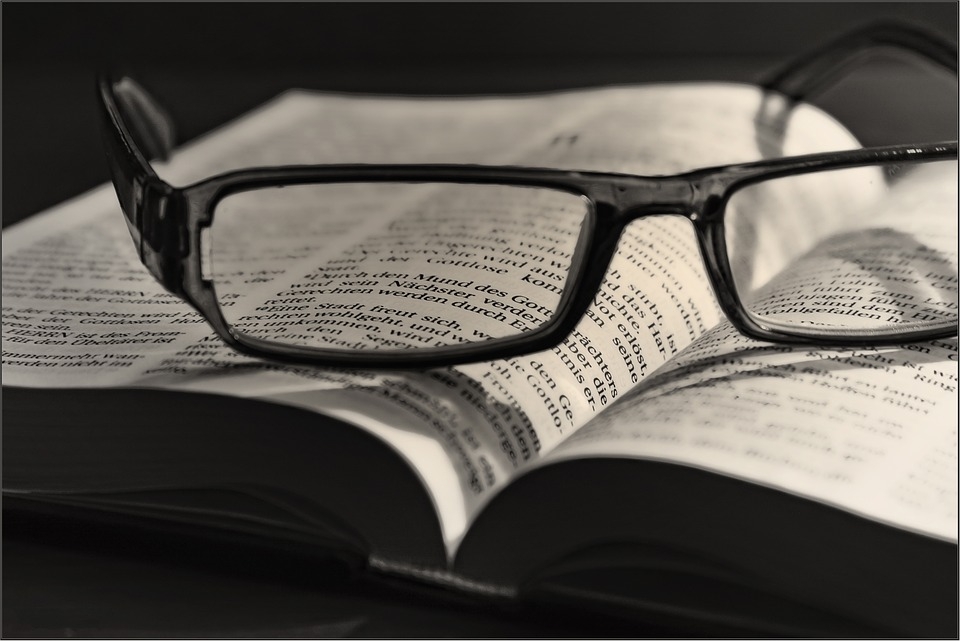 What are we doing when we read, interpret, discuss, and write about literature?
In order to start thinking about this complex question, we will survey the major theoretical statements of Europeanliterary critics, philosophers, and aestheticians from Plato to the beginning of the 20th Century, examining the changing definitions of both literature and criticism. We will concern ourselves with broad theoretical issues and the underlying assumptions of various writers and critics as they ask themselves, "What is literature?" "What is its purpose?" "How are we to evaluate it?" And we will tackle some of the bigger questions, such as "How does the language of literature function?" and "What is the relationship between reality and the literary text?" Thus, we will be exploring the changing nature of both literature and the lenses through which we view it. 
There is no required textbook for this course. Students will access readings online.
---
ENGL 326: TOPICS IN GLOBALIZATION AND CULTURE 
Professor Melissa Stephens
An earthquake and a tsunami triggered a meltdown at the Fukushima nuclear plant in Japan on March 11, 2013. Thousands of people were killed and an estimated five-million tonnes of debris entered the ocean. Whether debris washes up on B.C. shorelines, as pictured above, or enters the currents known as the great Pacific garbage patch, its migration reveals how a natural catastrophe challenges the national borders we use to distinguish communities. We are reminded of the intimacy of geographies like the Pacific Rim, where industry, waste, disaster, survival, and loss come to surface.
In this course, we will investigate how literature, theory, and other media respond to experiences and impacts of globalization. Areas of focus may range from trade, travel, and technology; to global footprints, cities and assembly lines; to social movements and militarism; to human and environmental health.
Pursuing the question of what defines the "global novel," we will also explore the power of literature to imagine our world otherwise.  
In addition to theory and news media, readings may include some of the following works: Dr Seuss' The Lorax; Italo Calvino's Invisible Cities; Chimamanda Ngozi Adichie's Americanah; Edwidge Danticat, Create Dangerously: The Immigrant Artist At Work; Gord Hill's Anticapitalist Resistance Comic Book; Jamaica Kincaid's My Brother; Abdel Rahman Munif's Cities of Salt; Arundati Roy's DAM/AGE; Rita Wong's Forage; Marie Clement's Burning Vision.
---
ENGL 330: TOPICS IN SPECULATIVE NARRATIVE:
Professor Janis Ledwell-Hunt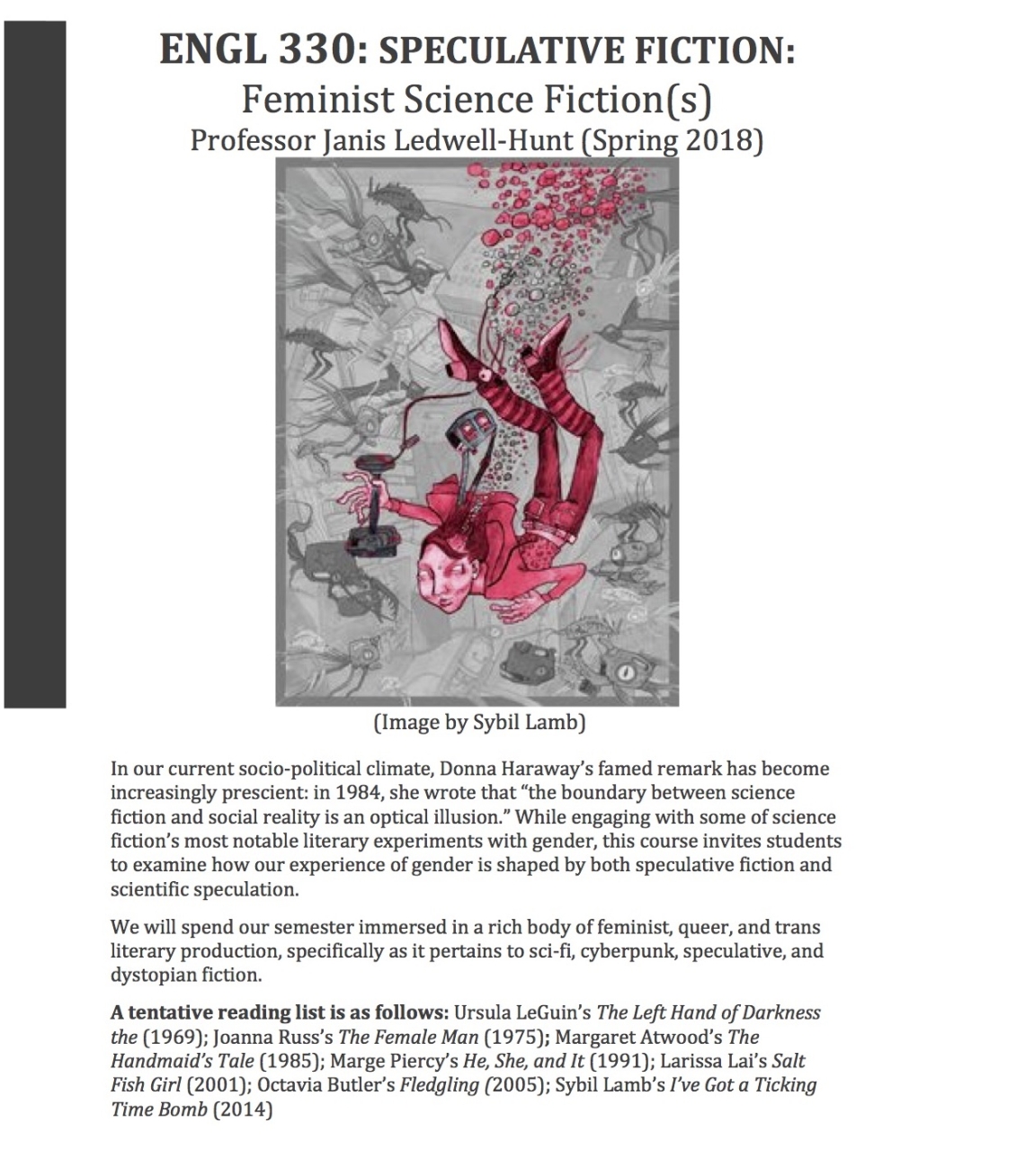 ---
ENGL 333: TOPICS IN POST-COLONIAL LITERATURES: CARIBBEAN CONSTELLATIONS
Professor Melissa Stephens
---
ENGL 335: SURVEY OF CANADIAN LITERATURE: THE 20TH CENTURY CANADIAN NOVEL
Professor Toni Smith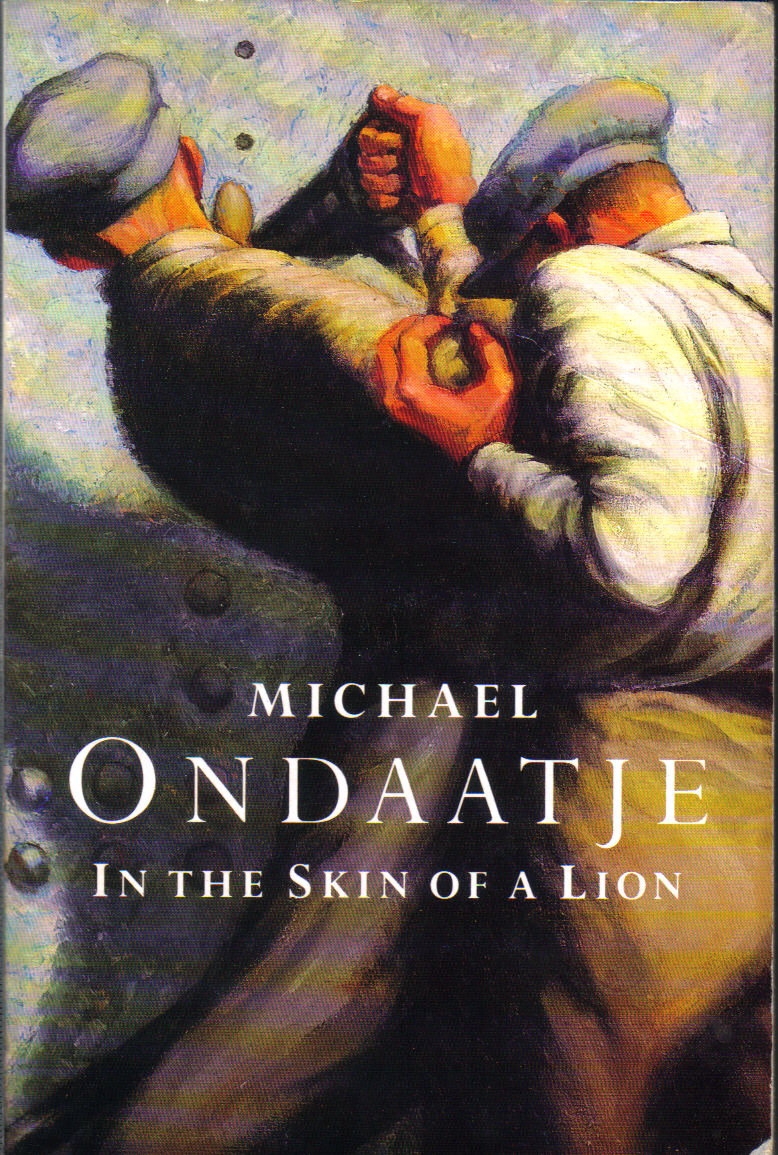 Murder in claustrophobic small towns; the impact of a wartime explosion in a Canadian harbor; shape-shifting human-animal-gods; sweeping sagas of transatlantic journeys; and dystopic imaginary futures…Canadian novels have it all.
This course will trace the social, political, and literary developments of the 20th century through the constantly changing Canadian novel.  From Western expansion at the turn of the century, to the literary nationalism and Modernism of the post-World War II period; from the post-modernism and feminism of the 1960s and 1970s, to the explosion of multicultural, diasporic, and First Nations writing in more recent decades, the novel has adapted both its form and content in a multitude of ways throughout the century.
Join us to read authors from coast to coast, the country and city, and from all over the world.  The list might include F.P. Grove, Sheila Watson, Hugh MacLennan, Gabrielle Roy, Margaret Atwood, Michael Ondaatje, Thomas King, Larissa Lai, and Anita Rau Badami.
---
ENGL 346: TOPICS IN 17TH-CENTURY LITERATURE: JOHN MILTON'S LOST PARADISE
Professor John Lepage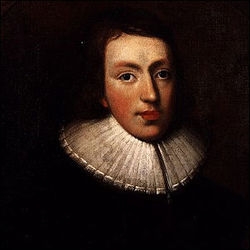 This course will examine seventeenth-century literature through the poetry and prose of John Milton. On one level, this will be a challenge, for by any standards Milton was a maverick, and he would have stood out for his originality in any era. In other respects, Milton was both the scion of great writers of the end of the sixteenth century and the beginning of the seventeenth century (Spenser, Shakespeare, Donne) and an inspiration for his contemporaries and those to follow. The course will explore Milton's biography – and the story of the epochal moments of seventeenth-century history – through the major poems and some short works. The centre-piece of the course will be a complete reading of Milton's epic masterpiece, Paradise Lost, the one epic in the English language on the scale of Homer, Virgil, and Dante.
Course requirements:  Assignments: one home essay (word processed, following MLA format, approximately 2000-3000 words; 30%), short essay (1000 words; 15%) final examination (25%), discussion points and write-up (15%), participation and attendance (15%).
Text: The Complete Works of Milton, Stephen Orgel and Jonathan Goldberg, eds. (Oxford, 2007).
---
ENGL 350: TOPICS IN 19TH-CENTURY LITERATURE: GOTHIC TRANSFORMATION
Professor Daniel Burgoyne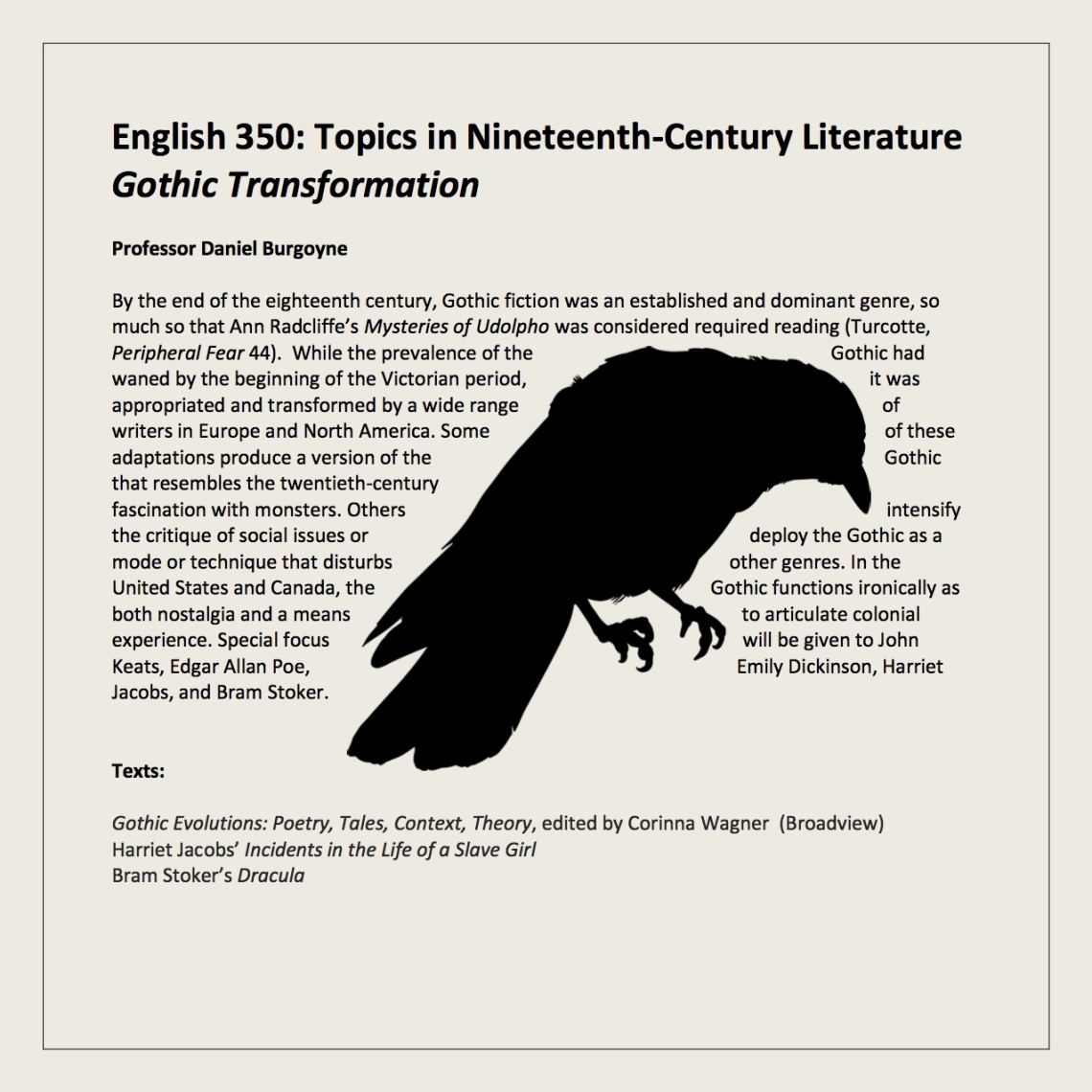 ---
ENGL 396: FILM STUDIES
Professor Paul Watkins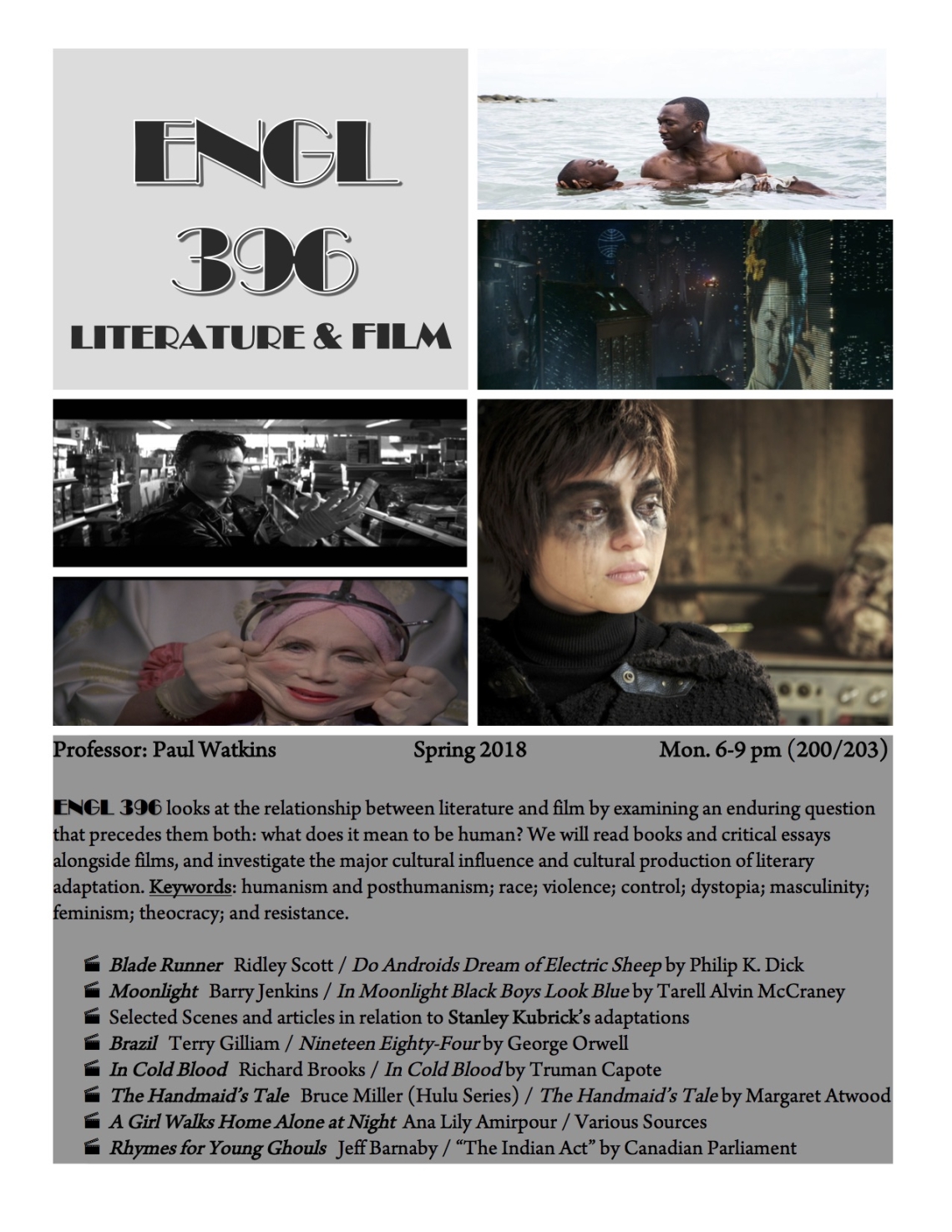 ---
ENGL 408: ADVANCED PUBLIC SPEAKING
Professor Sandra Hagan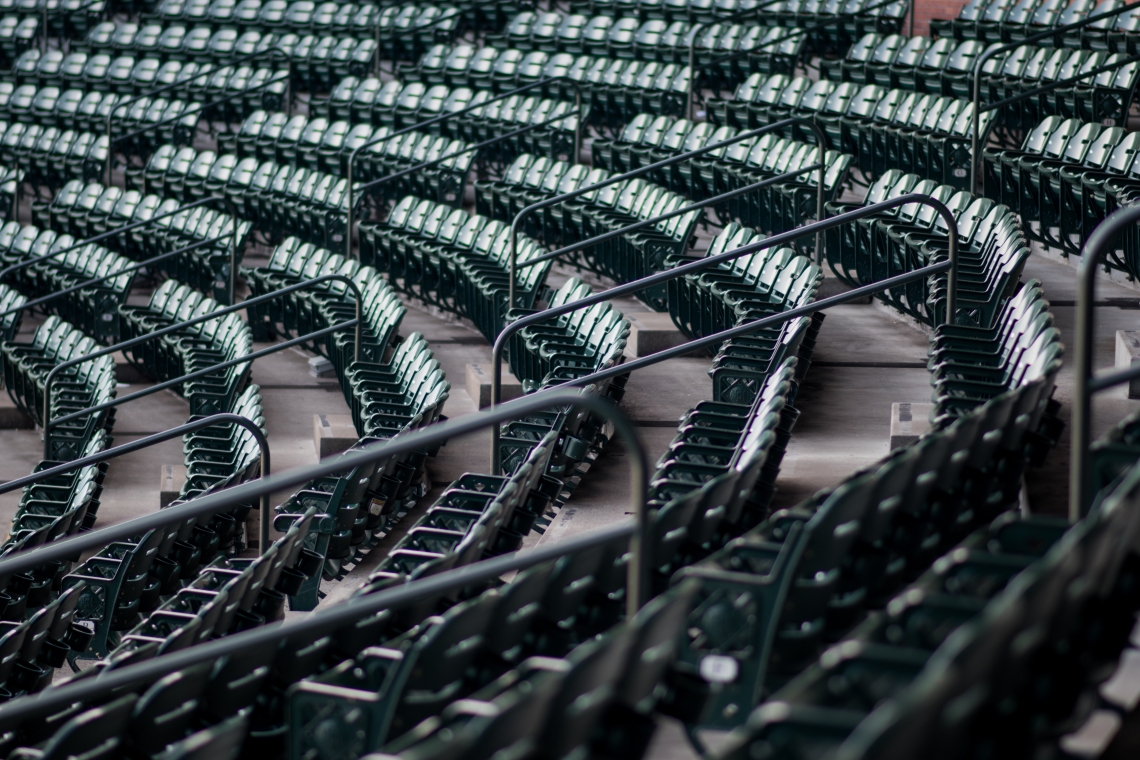 Speaking in public is one of the most connective, influential, and rewarding of human experiences.  Whether your plan is to sway a stadium-sized crowd, rivet a courtroom, dazzle at a business meeting, or inspire a classroom, this course will enable you to advance your speaking skills beyond the basic.  Through study of rhetorical principles and research-based best speaking practices, you will hone your writing and delivery skills.  The course will include advanced audience analysis, development of diversity and ethical skills, exploration of meeting dynamics, and application of presentation software.  As well as extensive classroom practice, you will have the opportunity to present as teams in a real-world setting.  Prepare for when it's your turn to speak.
Prerequisite: Third-year standing.
---
Generic course descriptions for all English courses are in the VIU Program and Course Calendar.